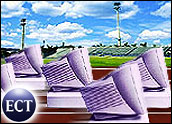 Personal computer shipments this year and next will grow by double digits, but that won't translate into the big revenue gains for PC makers, according to a preliminary forecast released yesterday by Gartner, of Stamford, Conn.
Compared on a year-to-year basis, Gartner predicted worldwide PC shipments would increase 12.7 percent in 2005, to 206.6 million units, and 10.5 percent in 2006.
On the other hand, the forecasters predicted that revenues from those shipments would grow a paltry 0.5 percent this year, to US$202.7 billion, and climb even less next year — 0.4 percent.
Prices Victimizing Revenues
George Shiffler, the principal analyst for client platform research at Gartner, explained that while PC shipments are increasing, the revenue gains from that growth is being almost wiped out by falling prices.
In fact, prices have been falling for so long that PC makers have been forced to continue the downward spiral to meet consumer expectations, Shiffler asserted.
"It's very hard to hold the line on pricing when people expect pricing to fall," he told TechNewsWorld. "If people are going to buy based on a price drop, you have to validate that and to get more growth, you have to drive prices even lower."
Backside of Replacement Cycle
Also contributing to slipping prices, he said, is that the industry is on the backslope of a major replacement cycle. "Companies are reading that growth is going to start to slow, and they're trying to counter that with cutting prices," he explained.
Competition, too, is causing prices to whither, Shiffler added. "Competition is so keen that everyone is battling for market share and one of the ways to do that is through price," he noted.
According to Loren Loverde, director of IDC's Worldwide Quarterly PC Tracker, falling prices aren't anything new for PCs. "We are seeing aggressive promotions and pricing on systems, but that's sort of embedded in the history of PCs and not something that happened over night or in the last year," he told TechNewsWorld.
"But what you're seeing in addition to aggressive pricing," he said, "is a shift in the mix from higher end systems to more mid-range and lower-end systems."
That shift, he explained, is due to the power available in less expensive systems. "New users tend to have lower resources so they'll go for lower cost systems," he explained. "And more experienced users that are buying second PCs are, in this tight economy, being more careful about how extravagant they are with their system purchase.
Casualties Inevitable
However, Shiffler reasoned that pricing can't continue to free fall without causing casualties. "Eventually someone is going to run out of rope in terms of whether they can continue to cut prices relative to costs," he averred. "And if enough people run out of rope, that may cause the rate to slow.
"I don't know if it [pricing] will ever turn around to where we will see positive price growth," he said, "but if it could be slowed relative to unit growth, you could pick up some revenue gain."
Some players, though, may not be around to see that slowdown, if it ever arrives. "It may become a game of who runs out of rope first," Shiffler said. "The first people who run out of rope may end up exiting the market."
"We expect several companies to be forced out of the industry before too long," he added. "Will it happen over the next quarter? Probably not. But over the next two years or so, it's reasonable to say that this dynamic of prices being driven down in search of growth is going to push a couple of people from the market."
Killer App
While there's always talk of a "killer application" — a software program so compelling that it can drive hardware sales — Shiffler doesn't see one on the horizon. "We don't see any Big Bang event in the short term that's going to dramatically change the current situation," he said.
However, he noted that the release of the new version of Microsoft's Windows XP next year will influence buying trends in 2006, especially among home buyers. "Home sales will be biased toward the fourth quarter more so than they have been in previous years as a result of Windows Vista, but we don't think it's going to have a big sustained pop on growth that will last through 2007, 2008," he said.
"Some new technology will come along," Loverde added. "That's been the history of technology. But we're in the situation where personal computing horsepower is broadening the gap between the requirements of applications and the power that's available.
"For an application to come along and really tax the performance capabilities of a PC and do it on a mass market scale is not something we're expecting in the short term," he said.