Welcome to Gadget Dreams and Nightmares, the column that thinks any tech company not named "Apple" announcing a product this week should readjust its marketing strategy immediately.
In our app store this week are the new iPhone, Apple TV and iPad — and just for kicks, a portable arcade console.
As always, these are not reviews, because I have yet to sully Apple's new screens with my grubby fingers. The ratings reflect only how much I am interested in trying out each, and are in no way a reflection of how likely I am to wait in line overnight at an Apple Store, for there is zero chance of that ever happening.
Speed Injection
The latest additions to Apple's iPhone line — the iPhone 6s and 6s Plus (pictured above) — are faster, stronger and smarter than the previous models. A zippier processor and faster Touch ID, LTE, and WiFi feature among the incremental upgrades.
There are a couple of interesting new features with this generation, primarily 3D Touch. This makes the screen receptive to pressure beyond lightly tapping or holding one's finger on an icon. It adds deeper capabilities throughout, akin to a right-click offering secondary interactions.
3D Touch opens up Peek and Pop. Pressing lightly offers a peek at a Web page, photo or other content, and pressing a little more firmly pops you into that content, allowing greater interaction.
I'm concerned that this deeper integration will lock me into Apple's native apps, few of which I use regularly. My hope is that pressing on the name of a location in Gmail will open up directions to it in Google Maps — but that hinges on how eager Apple is to open 3D Touch to developers.
Also new is a 12-megapixel rear camera, capable of shooting video in ultra-high definition 4K resolution — which you can't actually watch on the iPhone's screen. I'm eager to test this out in the hope of making Vines — or perhaps something more substantial — with more clarity.
The front-facing camera also gets an upgrade, and 3D Touch adds a "Take Selfie" prompt to the home screen Camera icon, which brings all my technology nightmares alive.
My phone contract is up, and I'm wavering between the iPhone 6 and 6s. 3D Touch is a compelling idea, and one I might use a lot. But saving US$100 by opting for the previous generation is somewhat tempting as well. Decisions, decisions.
Rating: 5 out of 5 Lines Out the Doors
Biggest Screen
The most compelling reason to take out an Apple TV, for me, is universal search. Ask Siri through the remote to look for a movie or TV show, and it will hunt for the title — not only in iTunes, but also in Netflix, Hulu, HBO and Showtime apps as well.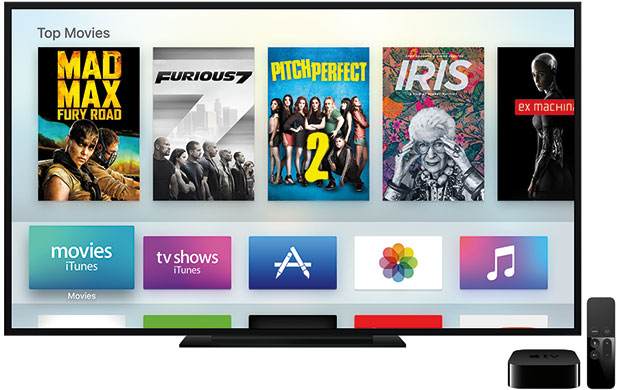 This is a dream for someone who spends a lot of time watching film and TV. I often refer to a third-party search engine to find out where I can stream something in particular, so removing that barrier between me and watching what I want is just delightful.
So too is the option to search the various libraries using natural requests like "Show me Bill Murray movies" or "Show me TV shows from the '90s."
That games are a focus is a positive as well. I tend not to play games of any complexity on my iPhone, as inputs requiring more than a quick touch or swipe are cumbersome when the input is also the display. I hope Apple TV means Apple is getting smarter about gaming.
I rarely watch broadcast TV anymore, and if Apple TV can help me get to what I want faster, I'd like one tomorrow.
Rating: 5 out of 5 Show Me New TV Experiences
Growing Up
The major iPad reveal at Apple's keynote this week was the iPad Pro, a model with a 12.9-inch screen. That's enormous. If I'm going to cart that around, I might as well carry a laptop.
Apple is introducing a powered stylus called "Pencil" to go with the iPad Pro, but I don't see a strong use for that outside of notations, drawing, and possibly graphic design. It seems like a business-focused pairing to me, rather than a consumer-minded one.
I'm much more interested in the iPad Mini, a screen size far more suited to my tastes, getting an upgrade to the same internal specifications as the iPad Air 2.
Rating: 3 out of 5 Far Too Bigs
Portable Mayhem
I've played games my entire life and Battlecade seems like the one thing I've been waiting for all this time.
It's a portable arcade machine in the form of a traditional Battleship format. Players face each other, with the machine in the middle. Each has a control system and a screen.
Gaming while facing each other should provide a more intimate experience than playing a console or arcade machine side-by-side.
The machine has a gorgeous wood finish, and though only a concept for now, I can imagine many, many nights taking down my friends in some retro games with this.
Rating: 5 out of 5 Buoyant Battleships