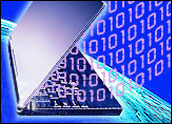 Laptops are loveable computers.
Their clamshell design resonates efficiency. Open up a unit and everything's there to fire up a computing session: display, keyboard and trackpad.
Their size and weight makes them highly portable. There's no need to shackle yourself to a desk, especially if you have a home wireless network.
And if you need more room on your desk, you can quickly pack up a laptop to free up some workspace real estate.
Nothing's Perfect
But laptops have their deficiencies, too. One of them is sound.
Most notebook computers have pitiful built-in speakers. And while the sound some laptops pump out of their headphone jack is pretty good, most people won't be trading in their iPods to listen to music on their portable computers.
But if you want awesome sound from your notebook, it can be done with a minimum of spent perspiration thanks to the folks at Voyetra Turtle Beach.
The company makes a US$29.95 gadget called the Audio Advantage Micro. The unit plugs into any USB port, and it produces some ear candy from a notebook that has to be heard to be believed.
Setting up the unit is very easy. You install its software. Plug the device, which is smaller than a "thumb drive," into a USB port. Pop your headphones into the gadget and prepare to be wowed.
When I watched a DVD movie on a laptop, I had to check my surroundings to make sure I hadn't been transported to a theater. That's because Turtle Beach has found a way to recreate in a pair of stereo headphones the sound of a multi-speaker, surround-sound system.
Flexibility Features
What's more, with the optical digital audio adapter included with the unit, you can pass through Dolby Digital and DTS multi-channel DVD sound to digital speakers or a home theater A/V receiver. However, you'll need an optional optical digital cable (TOSLINK/TOSLINK) to make those connections.
I found the sound of music CDs also enriched by the device, although I had to tweak the audio with the software equalizer included with the gizmo.
The equalizer, which is part of the Audio Advantage's control panel, has eight preset settings: rock, country, classical, jazz, bass boost, mid boost, high boost and flat. You can also create your own combination of settings and save them for later use.
The control panel also lets you choose, via tabs, speaker and effects settings for the device.
From the speakers tab, you can choose your output type — headphones, two speakers or optical (S/PDIF)–and manipulate the volume — control its level and pan, or relative volume in the left and right speaker.
I found that with the Audio Advantage plugged into a laptop, the computer's built-in volume controls were disabled. It's a good idea to keep the control panel open when first using the unit so you can make quick volume adjustments before shattering your ear drums.
Personalized to Perfection
Once you settle on volume settings for media types you can save those settings as presets and access them whenever you want to.
You can also create presets for the settings on the effects tab. From that tab, you can choose an environment for your sound. There are more than 20 environments available. Among them are the acoustic qualities of bath rooms, padded cells, a concert hall, arena and a sewer pipe.
You can also choose the depth of your environment — small, medium or large.
Virtual Surround Sound controls are located on this tab, too. They let you control the volume for the six speakers in the surround sound scheme. You can also position the speakers manually by dragging them around the representation of a head on the display, or create a randomly moving effect at the click of a button.
In addition, the controls permit you to rotate, clockwise or counterclockwise, the sound through the virtual speakers, and to control the speed, slow to fast, of that rotation.
If you watch movies, listen to music or play high-powered video games on your laptop, the Audio Advantage Micro is the kind of gadget that can really enrich your experience.
---
John Mello
is a freelance business and technology writer who can be reached at
[email protected]
.
---

Read More Reviews…
---