Apple's iPad has had the tablet market to itself for eight months now, but that's about to change. Leading the charge on the electronic slate's logy perch is the Samsung Galaxy Tab, a seven-inch tablet running Google's Android operating system.
Rather than take on the iPad head-to-head, Samsung decided to set its tablet apart from Apple's by making it smaller.
There are some advantages to that. The slate is more comfortable to hold in one hand, for instance. It also makes it easier to scale up applications for the display. Since the Tab's screen isn't much larger than a smartphone's, apps don't lose their resolution on the bigger canvas as some iPhone apps do on the iPad.
Moreover, since Google hasn't provided much in the way of guidance for using Android on a tablet, the operating system isn't optimized yet for handling bigger screens. Keeping the display small can help fudge that deficiency.
Dual Cameras
The Tab's smaller size is also better suited for using the unit's dual cameras. Unlike the iPad, which has no cameras, the Samsung slate has a 3.2 megapixel camera at the rear of the unit for taking stills and video and a 1.5 MP snapper on the front for video chats.
In still mode, the camera has some nice features. For instance, it has five shooting modes — single shot, continuous, panorama, smile recognition and self-portrait. It also has scene modes–portrait, landscape, night and sports. There's even a control for increasing or decreasing the exposure in a shot. The built-in flash can be turned on or off, as well as on full auto. Red-eye correction is missing, though, and is sorely needed for indoor snaps of people.
More customization features can be accessed through the set up menu. Six resolution options are offered — from 2,048 x 1,530 to 800 x 600 pixels. White Balance can be adjusted for a variety of lighting conditions — daylight, cloudy and artificial lighting.
Three ISO settings are available — 100, 200 and 400. You can also automatically geotag photos. And effects like negative, sepia and black and white can be applied to images.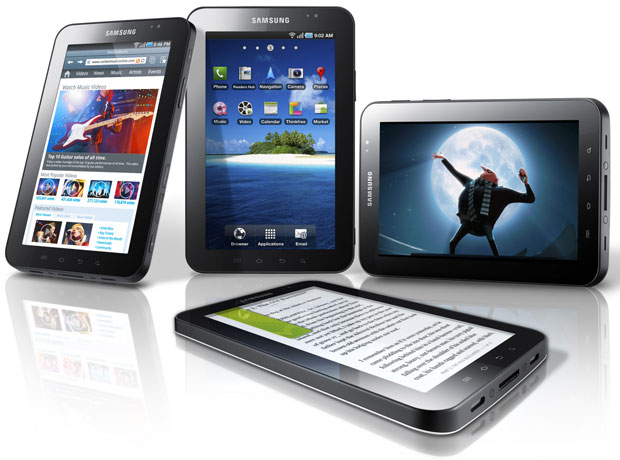 Samsung's Galaxy Tab
In video mode, the camera shoots 720 x 480 video.
Both stills and video can be shared from the Gallery. Videos can be posted directly to YouTube, aired via Bluetooth, emailed or conveyed via instant messaging. Stills can be sent directly to Facebook, Picasa and Twitter.
Bright, Responsive Display
Viewing photos and video, as well as anything else on the Tab, is a pleasure. Its 1,024 x 600 pixel display is bright, sharp and its colors are vibrant. In auto mode, the screen's brightness is automatically adjusted to accommodate surrounding light. However, brightness can be adjusted manually, too.
The Corning Gorilla Glass display responds promptly when poked for action or when information needs to be dragged around it. Moving back and forth from portrait to landscape orientation isn't as smooth as the iPad, but the latency isn't too bothersome.
Key settings can be quickly accessed by touching and holding a bar at the top of the display and pulling it down like a curtain. From there, brightness can be adjusted, WiFi toggled on and off, Bluetooth activated, GPS enabled, silent mode entered and the display's orientation locked.
Although the Tab has more controls than the iPad, it's still very simple to operate. In portrait mode, there are four touch controls on the frame at the bottom of the screen — menu, home, back and search. The menu control is app sensitive so the contents of the menus that it displays depends what's running when it's poked.
Below those controls on the bottom of the unit is the charger-accessory port and speakers. The Tab is charged through the port using a cable included with the unit and an adapter that plugs into an electrical outlet. Although the cable has a USB plug at one of its ends, the Tab can't be charged through a computer.
Worthy Alternative to iPad
On the left side of the unit is a microphone. On the right, is a slot for a microSD card, volume control rocker and power switch. A headphone jack is located on top of the unit. As mentioned before, there's also a camera on the front and one, along with a flash, on the back.
When you turn on the Tab, you need to slide a virtual tab on the screen to access the home screen. A bar at the top of the screen, lets you call up menus for customizing the home screen and the device's options, as well as information about your connections — WiFi and 3G — and battery level. Battery life is very good. The Tab is rated at six hours, and I found it did that and more.
A nice feature of the unit is that you can use it as a 3G hotspot for other devices that use WiFi.
You can move through screens of apps by swiping the display. However, a floating bar giving you quick access to all apps on the unit, email and a browser remains on the screen at all times.
My review unit from Verizon came loaded with apps, not only programs from the Android marketplace, but special apps from the Verizon store, as well as access to V Cast Music with Rhapsody, V Cast Video on Demand and VZ Navigator.
Verizon is selling the Tab for US$599.99, with 2 GB of internal memory and a 16 GB microSD card. That compares favorably with a 16 GB 3G iPad, which sells for $629. A no-contract 1 GB data plan from Verizon costs $20 a month.
Feature for feature, Samsung's Galaxy Tab beats the iPad hands down, but a tablet is more than a collection of features. Although the Tab's interface is easy to use, it isn't as intuitive nor as smoothly integrated as the iPad's. What's more, its size makes it feel like an oversized smartphone. Nevertheless, the unit is a worthy alternative to the iPad, especially for folks more interested in consuming media than creating it.