Samsung on Wednesday launched the Galaxy S8 and S8+, its next generation of smartphones. They feature major improvements in design and security processing power, as well as new digital assistant technology that may challenge the best devices on the market.
The Galaxy S8 and S8+ are available with 5.8 inch and 6.2 inch screens respectively. Both sport an infinity display using Corning Gorilla Glass, and a bezel-less design that provides a wider viewing area and more immersive experience than traditional smartphones.
The phones offer the industry's first 10nm processor, which allows for greater speed and efficiency when multitasking, according to Samsung. Both models have an 8-MP front-facing camera with F1.7 smart autofocus and a 12-MP dual pixel rear camera.
They are the first devices to be certified as Mobile HDR Premium by the UHD Alliance, which means viewers can watch TV and movies in vibrant color.
Security features, courtesy of Samsung Knox, offer defense-level protection that includes biometric authentication with iris and fingerprint scanning and facial recognition.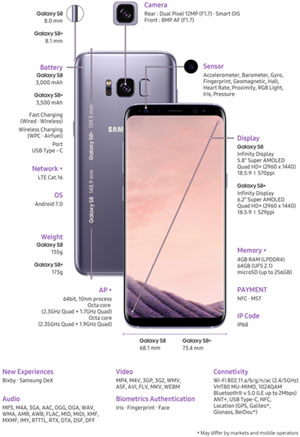 Click Image to Enlarge
Siri Killer
The Galaxy S8 and S8+ feature Samsung's new digital assistant technology, called "Bixby," which extends artificial intelligence capabilities to touch, vision and text commands. It features contextual awareness, so the device can recognize a local landmark, for example, and recommend nearby restaurants.
"Bixby understands context. It knows what is happening on your screen," Siriam Thodia, senior director of intelligence and IoT, told attendees at the launch event.
Bixby voice commands work with several native Samsung apps — ranging from contacts, camera and gallery to settings and messages. It works with some other Samsung and third-party apps as well.
The Galaxy S8 and S8+ feature several interactive technologies, expanding the range of features throughout the Samsung ecosystem. The phones unlock the company's new Gear VR with Controller, allowing single-handed navigation with Oculus devices. They also connect to the new Gear 360, which allows the creation of 4K 360-degree video and 15K photos.
The phones work with Samsung Connect, which allows them to control IoT-enabled devices using three-step configuration. Samsung DeX allows the phones to provide a secure, desktop-like computing experience.
Solid Reception
"The Samsung Galaxy S8 and S8+ will be very well received, and it will solidify Samsung's leadership in smartphones," said Werner Goertz, research director for personal technologies innovation at Gartner.
That said, none of the hardware or feature sets announced at the event are "revolutionary," he told TechNewsWorld. The infinity display, which increases the viewable display to 83 percent, is a good and competitive addition — but LG announced the same feature for its G6 at the Mobile World Congress.
In terms of recovering from the Galaxy Note recall, Samsung has learned to "directly, openly and proactively" address the loss of trust it caused, Goertz said.
The S8 could be an "instant classic," said Jitesh Ubrani, senior research analyst for worldwide mobile device trackers at IDC.
Samsung has gone "above and beyond" in terms of design, he told TechNewsWorld.
The Samsung Galaxy 8 and 8+ phones will be available starting April 21. They will come in five colors: Midnight Black, Orchid Gray, Arctic Silver, Coral Blue and Maple Gold.