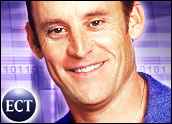 While some PC makers talk a good consumer electronics strategy, Gateway is turning talk into products.
That's what Gateway executive vice president Scott Edwards told TechNewsWorld in an exclusive interview following a New York City press conference at which the computer maker with the bovine brand introduced 14 new business and consumer products.
"Our friends in Texas made some big announcements a month or two ago, but I don't believe they have any sense of depth in a real product lineup as Gateway has," Edwards said, referring to Dell Computer.
Product Deluge
The products introduced by Gateway include a security appliance for business storage needs, a two-terabyte ATA storage device, three new notebook computers (including one with a 17-inch display), a 20-GB digital music jukebox, two digital cameras, two LCD TVs, wireless network adapters, a media center PC in a compact form factor and a DVD recorder for less than US$350.
The new storage products announced at the briefing appear to be a move by Gateway to gain a sliver of a market that has been a cash cow for Dell.
Speaking at the news event, Gateway CEO Ted Waitt noted that the large margins in the storage market make it ripe for the kind of price disruption strategy his company has brought to the consumer electronics market.
"Our pricing will be 25 percent of the cost of a traditional device and have up to two terabytes of data," he said.
Price Disruption
"Not only can we be disruptive on price that might hurt our competition, but we can build a great business for ourselves at the same time," Waitt added.
The storage products announced today are part of a two-pronged strategy by the company, according to Scott Weinbrandt, senior vice president and general manager of server and storage products at Gateway.
In the second part of the strategy, which will be launched at the end of the month, the company will produce a low-end storage area network (SAN) product and will partner with a "very well-known SAN company" to market a high-end product.
He noted that the idea behind the strategy is to offer customers an end-to-end solution. The company can offer not only front-office products — desktops and notebooks — but back-office products as well, he explained.
2 TB 4 6K
Unlike Gateway's competitors in the market, he continued, the company is starting at the low end and working its way up. "We're pricing our two-terabyte storage device at $6,000," Weinbrandt observed. "If you were to go out and price that in the market today in a SCSI product — that could be anywhere from $20,000 to $30,000."
According to Waitt, Gateway can afford to be disruptive in the high-margin storage business because it's the new kid on the block. "What you see us doing on our consumer products and our business products is basing our pricing on what our cost is, not necessarily on what the market is," he explained.
"Since we don't have a large-margin storage business — and a lot of our competitors use their high-margin storage business to subsidize their PCs — we don't have anything to lose."
Familiar MO
What Gateway is trying to do in the server market is the same thing it has done in other markets, according to Stephen Baker, an analyst with NPD Techworld in Port Washington, New York. "It tries to find some weak points in a category where there is an opportunity and leverage the brand awareness that they have, the customer contact that they have and their ability to source and design products to give them some kind of pricing advantage," he told TechNewsWorld.
As Gateway expands its reach into more and more markets, the question in many minds is whether the company will dilute its performance. "Can it do all these things and do them all well?" Baker said. "They're biting off a lot of nuts here, and while the opportunity is large, the question is, can you really get into as many categories as they've gotten into this year and still be successful?"
Gateway seems to have done a good job so far, Baker added. "But with Christmas and the business buying season coming up, everyone wants to see some proof of concept like ramping revenues that show they're on the road to profitability."