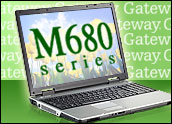 Gateway has come to the table with its 17-inch widescreen notebooks a little later than some of its competitors, but its latest offering in this category illustrates, once again, that it's capable to delivering excellent value without skimping on performance.
Some impressive features have been incorporated into this offering, the M680 notebook, most notably the use of Intel Centrino technology and ATI mobile graphics.
The 680 is available with Pentium M processors running from 1.6 to 2.13 gigahertz. The mobile processors are Intel's latest and include its Alviso chip set. That chip set supports technologies that boost system performance like fast Double Data Rate 2 (DDR2) memory.
Heavy but Mobile
Rather than sharing graphic functions with other components, the 680 has its own graphics card, the ATI Mobility Radeon x700 and up to 128 megabytes of video memory.
Use of mobile components have allowed Gateway to reduce the weight and size of the 680 over its predecessor, the 675. Even at a pound lighter, though, it still is a dreadnaught at 7.7 pounds, but its overall thinness — 1.24 inches — makes the pewter and black unit look lighter than it is.
Despite the incorporation of mobile components, though, the notebook appeared to run warm and its fan was relatively loud. The 680 may be a notebook, but my toasty thighs discourage me from referring to it as a laptop.
More Business than Pleasure
Gateway is billing the 680 as a "mobile workstation," and it does seem better suited for business applications than for entertainment. Despite its wide screen, speedy graphics and multi-format optical drive, professionals taking some time off the clock may find the machine's entertainment performance disappointing.
When playing audio CDs and movie DVDs with the software included with the machine, I found the unit making annoying intermittent pauses during playback.
Sound from the notebook's front-mounted speakers was adequate for DVDs, but a bit brittle for audio CDs. As I've found with most notebooks, the sound is greatly improved when pumped through earphones plugged into the unit's headphone jack.
Wide Display
The unit has a very attractive 17-inch, high-resolution (1680 x 1050 pixels) LCD display with a wide viewing angle. Its widescreen aspect ratio gives business users lots of real estate for viewing spreadsheets and entertainment seekers a broad platform for viewing movie DVDs.
Typing on the 680 isn't the chore it is on some portables. Its keyboard has a solid feel to it and its keys are amply-sized. Business users will fawn over the unit's dedicated number pad, which makes working with digits much more comfortable than dealing with the embedded number pads found on many notebooks.
Controls for a media player can be accessed through function key combinations, which isn't as convenient as the media consoles found on some notebooks, such as the Toshiba Satellite M45.
Plenty of I/O
The unit's headphones and mic jacks are located at the front of the unit, as is a four-in-one card reader, which is convenient for uploading photos stored on some flash media. On the left side are two USB 2.0 ports, a PC Card slot, four-pin Firewire port and S-video socket.
A VGA socket, modem jack and 10/100/1000 Ethernet port are on the back of the machine and on its right side, two more USB ports and the optical drive.
Adequate Software
Support for WiFi 802.11 a/b/g is built-in to the unit, but the hardware seemed tepid compared to other notebooks that have crossed my review path. For instance, while the 680 couldn't detect a single wireless network within range of my office, the Toshiba M45 detected four of them, although their signals were very weak.
For productivity software, the 680 has Microsoft Works, certainly not as robust as an office suite, but it does have the basics–calendar, address book, database, spreadsheet and word processor.
A suite of applications from Nero are also packed with the notebook. They allow you to backup your system, tinker with the performance of an optical drive, design CD covers and burn audio CDs and data DVDs.
Also on the machine is CyberLink's PowerDVD for viewing movie DVDs.
Pricing of the 680 varies with configuration. At low end of the price line is a unit with a processor running at 1.6 gigahertz, 512 megabytes of DDR2 memory, 40 gigabyte hard drive and CD/DVD-ROM for US$1399; at the high end, a machine with a 2.13 gigahertz processor, two gigabytes of DDR2 memory, 60 gigabyte hard drive and 8x DVD/CD burner for $2864.99.
Gateway may have been late with its widescreen notebooks, but with more models like M680 it will be catching up with its competitors in a hurry.
---
John Mello
is a freelance business and technology writer who can be reached at
[email protected]
.
---

Read More Reviews…
---