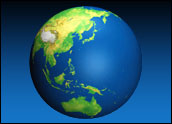 Google has released a new version of its Google Earth application, updating it to version 4.3 by adding a more realistic, immersive set of features intended to make the virtual planet feel more like home. In addition to features like the ability to control the sun, Google Earth 4.3 also comes with a lot more real-world data, new photos and cities ready for 3-D exploring.
"I see this release as having a lot of nice new window dressing. It has some really pretty features in terms of the new atmosphere and lighting effects that make it a little more realistic, especially if you're down on the ground and you try turning on the day-night and see the sun set and rise and the night effect with the stars coming out — it just looks a lot more like a mirror of the real world," Frank Taylor, author of the Google Earth Blog — which is unaffiliated with Google — told TechNewsWorld.
"I think those are nice features, although they don't add a lot in terms of functionality. They don't help me learn my way around the world or anything. But I still like them," he added.
Better Navigation
Core to 4.3 is a new navigational experience so that users can explore the 3-D environment more easily. The navigation is pan-and-zoom and includes a first-person, ground-level perspective commonly found in video games, Google noted. The new navigation will be particularly handy for casual users and newbies because, as it turns out, a surprising number of people don't realize Google Earth is truly 3-D.
"Oftentimes people just zoom in and they look at satellite photos and they look at their house, but they always look straight down," Taylor said. "That's why Google came up with the new navigational gadget."
3-D Buildings
Google also added more buildings, the company reported, and version 4.3 now includes dozens of photo-textured cities and towns — as well as thousands of user-contributed buildings from around the world. Google also said it has significantly enhanced Google's approach to rendering 3-D data to greatly improve performance and realism.
"They've added a lot of new data … it presents a much more realistic view of these cities that have these new 3-D models," Taylor said.
Some of the cities include San Francisco, Boston, Munich, and Tokyo — though even some smaller cities, like Boise, Id., contain 3-D images.
Google Earth also now includes Street View, the Google Maps feature that provides street-level photos of areas on maps.
This Was Taken When?
"One of the most often requested features is, people have always wondered when were these satellite photos taken?" Taylor noted. Google now provides the answer with its image acquisition date feature.
"All you have to do is put your mouse over the image, and if the image has the data available, it shows up in the lower right. Not all of the imagery has that because Google gets imagery from hundreds of different places, and some of them never give Google date data," he explained.
"Google is constantly updating the imagery — a lot of people don't realize how much is changing all the time. Every 60 days, they have a pretty big push of new imagery," Taylor said.
Version 4.3 has also added twelve new languages: Danish, English (UK), Spanish (Latin American), Finnish, Hebrew, Indonesian, Norwegian, Portuguese (PT), Romanian, Swedish, Thai and Turkish.