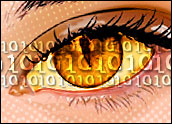 Google's apparently taking a cue from movies like "Iron Man" and "The Terminator in designing one of its upcoming products: Eyewear that displays data and information to the wearer.
The Internet giant's glasses are in the late prototype stage, 9to5Google claims.
They are likely going to run a version of Android, connect to the Internet, include a global positioning system and double as a phone, 9to5Google stated.
The devices could be released to the market soon.
"Nothing here [as reported] requires a massive technology breakthrough, just some cost optimization," said Rob Enderle, principal analyst at the Enderle Group. "The cost of the displays will be the main issue, and unless Google sells a ton of them, it'll be hard to bring down their price."
More About the Google Glasses
The glasses from Google somewhat resemble Oakley Thumps, 9to5Google reported.
Thump is a line of sunglasses that incorporate an MP3 player with up to 1 GB of memory. They were priced at US$250 to $350, but the line has been discontinued.
The Google glasses will reportedly have some buttons on the arms and will communicate directly with the cloud. They could use a smartphone's Internet connection, through WiFi or Bluetooth.
It's possible the Google glasses will run a version of Android. They will reportedly have a front-facing camera and a flash. The camera will only have a resolution of a few megapixels.
Apparently, only one lens of the Google glasses will have the heads-up display. Users will tilt their heads to scroll and click.
The glasses will apparently also feature voice input and output, and may have up to 8GB of storage, running on a 1 GHz ARM A8 processor.
Google did not respond to requests for comment for this story.
About the Glasses' Specs
It's likely the glasses will use transparent LCDs rather than active-matrix organic light-emitting diode (AMOLED) technology for the lenses, Enderle told TechNewsWorld.
"I first used transparent LCDs in head-mounted displays a decade ago, so [this technology] would be well-vetted," Enderle speculated. "AMOLED is still pretty young and likely wouldn't easily lend itself to this function."
However, the glasses would likely complement smartphones rather than perform the same function because this "would make them avoidably more expensive," Enderle opined.
Possible Uses for Google Glasses
A device like this could be useful in ways we aren't even thinking about now.
Between component miniaturization and the increasing use of information technologies, including video and audio feeds across various industries, "there would be dozens of potential applications if and when these [items] come to market," Charles King, principal analyst at Pund-IT, told TechNewsWorld.
The United States Department of Defense is reportedly considering something similar to the Google glasses for its Persistent Close Air Support (PCAS) program, Defense News reports.
The Defense Advanced Research Projects Agency (DARPA) has reportedly awarded a US$1 million contract to Vuzix to develop prototype glasses. Other contractors will develop software to display information inside the glasses and apps to link unmanned aircraft and their sensors to their human controllers.
Other Players
Microvision is another company working on mobile device eyewear. It's combining its ultraminiature PicoP display engine with special optics embedded into fashionable or protective eyeglasses.
Information originating in a mobile device will be beamed to the eyewear through a wired or wireless connection. The eyewear can either be see-through or opaque.
Meanwhile, researchers at the University of Washington have demonstrated a prototype contact lens that can receive streaming data wirelessly.The lens can currently only contain a single pixel of information, but the researchers say it's a proof of concept and the device can be eventually worn by humans who could use it to read short emails and other messages.
Technology for incorporating a readout or electronic display into eyewear is progressing rapidly, and "before long, we'll probably wonder how we ever lived without Google glasses," Pund-IT's King said.