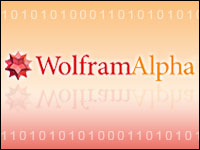 How much does a civil engineer in New Orleans make? What is the average temperature there? What are the differences in the trigonometric functions of sin, cos and tan? What is the exchange rate between the U.S. and the UK right now?
Throw one of these questions at Siri, the voice assistant in iPhone 4S, and she will speedily reply. Fueling Siri is Wolfram Alpha, a computational knowledge search engine launched in 2009.
Now the engine's developers are taking its data-driven approach one step further with the launch of Wolfram Alpha Pro — but it's not clear how far this paid application will get.
"It is still an uphill battle for outside parties in search, even with the name recognition of Siri," Ken Saunders, president of Search Engine Experts, told TechNewsWorld.
A Wolfram Alpha spokesperson was not immediately available to provide further details.
The Wonder of Wolfram Alpha
Created by Stephen Wolfram, who also developed the math formula software program Mathematica, Wolfram Alpha is unique in the search engine world, not so much because it is voice activated, but because of the way it uses algorithms to search its vast collection of built-in data.
The service can be used to answer a broad range of queries, including those that could easily be fielded by Google or Bing. Showtimes can be pulled up, for instance, for a particular movie on a certain day. The difference is that instead of searching the Web for the local times, Wolfram Alpha Pro uses a specialized information service.
Growing Knowledge Base
Indeed, it is Wolfram Alpha's extensive knowledge base that is the engine's secret sauce.
For example, in the mathematics category, it can offer expert information on elementary math, numbers, plotting, algebra, matrices, calculus, geometry, trigonometry and so on — basically a high school or college student's dream come true.
Other categories include money and finance, socioeconomic data, health and medicine, physics, chemistry, the weather, dates and times, units and measures, places and geography, life sciences, sports and games, colors, shopping and technology. Wolfram Alpha is adding to its repertoire every day.
Wolfram Alpha Pro
In the paid version, Wolfram Alpha Pro users can ask more complex questions using a multitude — as many as 60 — inputs. Such questions can range from complicated mathematical problems to the relationship between social media contacts.
The service will be US$4.95 per month. For students, the rate will be $2.99 per month.
These inputs can also vary in format, from images to data files. The system is able to spit out answers in different formats, too — translating tables to color-coded bar charts, for example.
Hard to Change
These are clearly advances in the search space, Saunders said — but they are of interest only to a minority of people.
"It is a much more detailed algorithm and different way of looking at the Internet, which is why it supposedly delivers superior results," he pointed out.
Nonetheless, even students could probably make do with the free version of the product, Saunders said.
The fact that Wolfram Alpha still exits, to say nothing of launching a new paid version, is in itself an accomplishment, noted Greg Sterling, principal of Sterling Market Intelligence.
"Wolfram Alpha has managed to create a beachhead in a market — search — where few new entrants last long," he told TechNewsWorld.
Siri can be credited with that at least in part, said Sterling.
Although it is unlikely to ever reach mainstream status, "it has managed to establish a following," he said, "and so it may generate some reasonable revenue through its subscription price."