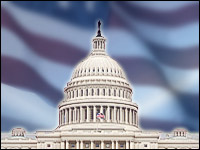 Congressional Democrats this week took another go at Net neutrality.
Sen. Patrick Leahy, D-Vt., chairman of the Senate Judiciary Committee, and Rep. Doris Matsui, D-Calif., member of the House Energy Subcommittee on Communications and Technology, introduced the Online Competition and Consumer Choice Act.
The act would require the Federal Communications Commission to ban "paid prioritization" agreements between a broadband provider and a content provider — that is, it would not allow agreements like the one between Comcast and Netflix, which requires Netflix to pay premium pricing so its customers will be able to stream movies smoothly.
The language of the bill makes no bones about its view of the telecom landscape. Passing it would prevent the creation of a two-tiered Internet system, it promises, ensuring that startups and entrepreneurs have access to the marketplace, and that consumers can access content equally.
Cosponsoring the legislation are Sen. Al Franken, D-Minn., Rep. Henry Waxman, D-Calif., and Rep. Anna Eshoo, D-Calif.
Verizon v. FCC
This is not the first attempt by Democrats to bolster Net neutrality. The party introduced another bicameral bill, the Open Internet Preservation Act, in February. Two of the legislators behind the latest measure, Franken and Eshoo, had sponsored it as well.
That legislation followed what was then perceived as the biggest threat to Net neutrality: The D.C. Circuit Court of Appeals in January weighed in on Verizon v. FCC and struck down Federal Communication Commission rules that mandated ISPs treat all Internet data the same.
Since then, however, a bigger threat has emerged: the FCC's proposal on May 15 to use the Verizon v. FCC as a legal blueprint to promote broadband use. The FCC has defended its proposal as fair to consumers and supportive of the open Internet, pointing to such promised safeguards as a no-blocking rule and a multifactor screen to analyze whether any conduct hurts consumers under the legal standard of "commercial reasonableness."
The bottom line from its opponents' perspective, though, is that the proposal appears to give tacit permission to create fast lanes, or a tiered Internet, in part because it asks the public whether the practice should be banned.
That was the interpretation comedian John Oliver gave to the proposal a few weeks ago, when he urged viewers of his HBO show Last Week Tonight to respond to the proposal on the FCC's website, reportedly causing the agency's servers to temporarily crash.
Political Cover
Oliver's rant, which quickly went viral on the Web, may have taken the Net neutrality issue mainstream, David Johnson, CEO of Strategic Vision, told TechNewsWorld.
Still, even though "it got movement on social media and people talking about it and so on," it will take a lot more momentum for any bill to pass during an election year, he said.
"Realistically speaking, except for maybe reform of the Veterans Administration, nothing — and I repeat, nothing — is going to pass in an election year," Johnson said. "No one wants to give the other side kudos for legislation."
Members of Congress know that, of course, but that realization doesn't stop them from proposing legislation such as the Online Competition and Consumer Choice Act.
Such endeavors are aimed at constituents and supporters to get brownie points, Johnson said.
Even if this weren't an election year, the debate around Net neutrality will not be settled any time soon, said telecom analyst Jeff Kagan. There are good arguments for both camps, he told TechNewsWorld.
"It is a swamp," he said, "and I don't see us slogging our way through for a long time."