Microsoft on Tuesday unveiled its latest iteration of the Surface tablet at a New York City event. The Surface Pro 3 is slightly larger, with a screen size of 12 inches diagonally, instead of the 10.6 inches of previous models. It is also thinner, at 0.36 inches, and weighs a mere two pounds.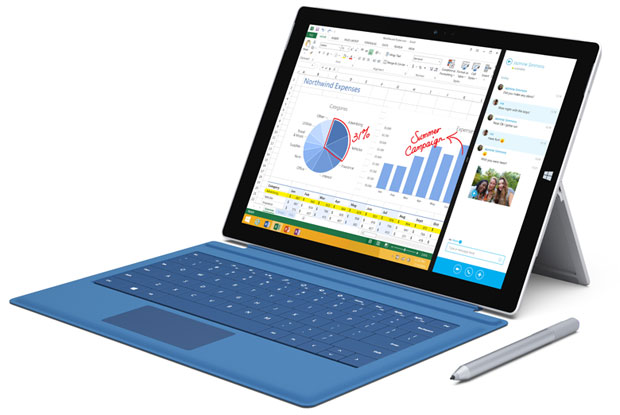 The Surface Pro 3 will sport such business-essential software as Photoshop, which has been adapted to be compatible with the device's hardware.
Its chief selling point, though, is the Surface Pro 3's ability to serve as both a laptop and a tablet, Microsoft said.
Users can write on it with a pen like they would with an old-school pad and pen; they can secure it on their laps to work while en route to a meeting; or they can use it as they would a laptop.
To that end, Microsoft made a number of tweaks, including upgrading the kickstand so it can accommodate a range of angles, all the way back to 150 degrees. Earlier iterations only offered the user two different slants.
It is also offering an updated cover that is thinner to protect the screen. Finally, the keyboard has an improved trackpad.
A Potent Argument
For business users, these tweaks could add up to a potent argument to make the shift to a Surface Pro.
"I can't tell you how long I have wanted a device that would keep me from having to carry around both a tablet and a laptop," said Roy Chomko, president of Adage Technologies.
Chomko has been using Microsoft's products for years, and just weeks ago he acquired a Lenovo Yoga 2 (11 inch).
He likes his new device but predicted the Surface Pro 3 will make even deeper inroads into the enterprise.
"The new form factor is bigger, and I think business people want that so they can use it on the train, for example, or in an airport, comfortably," he told TechNewsWorld.
The new kickstand means it can be better incorporated into an office setting, he added.
Pricing for the Surface Pro 3 line, which will include five models, begins at US$799. The entry-level version will have 64 GB of storage, 4 GB of RAM and an Intel Core i3 processor.
The top model will market for $1,949 and come with 512 GB of storage, an Intel Core i7 processor and 8 GB of RAM.
'Good Specs'
The specs are great, Laura DiDio, principal of ITIC, told TechNewsWorld. "They fit with what business users want — a lighter, more agile and more powerful mobile device."
That said, it is by no means certain that the Surface Pro 3 will be any more popular than its older siblings have been.
The first Surface was introduced with a splash in 2012, but it went on to post lackluster sales.
The second model came out last October and received an equally tepid market reception.
"Microsoft's issue is more one of perception than any actual product lack," Didio said. "Also, they are fighting an increasingly crowded market."
Microsoft made much of the Surface Pro 3's ability to go head to head with the MacBook Air during the demo, but that might have been a waste of time, DiDio suggested. "Microsoft just doesn't have the same cachet as Apple."
Undeserved Rep, Big Risk
Microsoft has gotten something of a bad rap for its hardware, and in the case of the Surface, it isn't deserved, Charles King, principal analyst with Pund-IT, told TechNewsWorld.
"Obviously, the Surface has not performed as well as Microsoft had hoped it would," he said.
Microsoft is taking something of a risk with this design, King added. "Not everyone thinks bigger is better for a tablet," he noted.
On the other hand, "maybe the market does need a new approach or style," King said.
Is the Surface Pro 3 different enough from other products to make a difference?
"You can argue form factor differences and so on, but a two-pound, 12-inch Surface Pro looks a lot like many Ultrabooks out there," King said.
"Boldness comes at a price," he noted, "and with this device, Microsoft is now a direct competitor with many of its PC OEM partners."