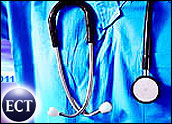 It's not "Star Trek" and Dr. "Bones" McCoy's tricorder sensor, but it is one step closer to where no medical patient has gone before; the ability to stream his or her vital signs from a health monitoring device to a computer, thanks to a partnership announced Thursday by IBM and Google.
IBM's new software will work with Google Health, the search giant's free online medical record database announced last summer. Soon, a patient will be able to send data on heart rate, blood pressure, blood chemistry and other medical information from their homes or doctor's offices to their Google Health accounts.
Although no hardware manufacturers have signed on yet, IBM says its software will adopt to new standards set by the Continua Health Alliance, an industry group dedicated to interoperability among current and next-generation health-care devices.
"Our partnership with IBM will help both providers and users gain access to their device data in a highly simplified and automated fashion," Sameer Samat, Director for Google Health, said. "IBM has taken an important step in providing software that enables device manufacturers and hospitals to easily upload recorded data into a PHR (personal health record) platform, such as Google Health."
Addressing Privacy Concerns
Deven McGraw, director of the Center for Democracy and Technology's Health Privacy Project, has been taking the pulse of the move toward PHRs since both Google and Microsoft began offering searchable, shareable medical databases to consumers last year.
"These developments in software and personal health management tools are very exciting," McGraw told TechNewsWorld. "It's exactly the kind of benefits that patients and consumers want from this movement in health IT."
McGraw's job, however, is to remind policymakers that this in many ways uncharted territory regarding regulations and privacy protections. "One of the gaps in the law that we know is out there, is that when these personal health record vendors exchange personal health information, they're not covered by any federal health privacy rules. Therefore the consumer needs to be that much more vigilant and understand what the privacy protections are that are in the privacy policies."
It is encouraging, however, that putting more health information online to streamline bureaucracy and improve efficiencies is a priority of the new Obama Administration, and US$20 billion of the economic stimulus package now working its way through Congress is designed to spur e-medical record keeping, McGraw said.
"There are provisions in the [stimulus] package that will strengthen privacy. Those include tasking the Federal Trade Commission and Health and Human Services to come up with recommendations on privacy health protections in PHRs," McGraw said. "We're already taking steps down this road. We're keeping our fingers crossed and we should have answers very soon."
Home/Doctor's Office Applications
The IBM/Google press release provides some examples of how the new software could be used by patients and doctors. "A busy mom can receive daily electronic updates on the health status of an aging parent who lives alone, is suffering from high blood pressure, and is on multiple medications. A traveling businessperson, who is diabetic and training for a marathon, can have a real-time discussion about her blood sugar levels and heart rate with her coach hundreds of miles away."
Such applications are indeed groundbreaking, McGraw said, but only highlight the need to make sure the devices and streams are protected and trustworthy. "I don't want to rain on anybody's parade. I do think it's revolutionary; it is exactly the kind of innovation that we are hoping to achieve through this health IT movement. But if people don't trust that information traveling through these new systems, if it isn't going to be protected, than they won't use them and the benefits will all be for naught."