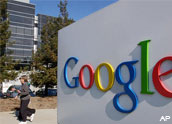 Google has announced a new beta version of Google Sync that lets iPhone and Windows Mobile users synchronize their Gmail Contacts and Google Calendar events with the Web, PCs, Macs and, of course, their mobile phones.
The key innovation with the new Google Sync is that it will let users transfer data to and from their devices to Google's servers in the sky automatically as events or contacts change. Google Sync is also available for BlackBerry users.
"Once you set up Sync on your phone, it will automatically begin synchronizing your address book and calendar in the background, over-the-air, so you can attend to other tasks. Sync uses push technology so any changes or additions to your calendar or contacts are reflected on your device in minutes," explained Bryan Mawhinney, a Google mobile software engineer, on the Official Google Mobile Blog.
"The connection is always on so you don't have to manually sync your phone after Sync has been set up. This means that when your colleague changes the time of the TPS report cover sheets meeting, you'll know about it right away," he added.
One of the hardest things about switching phones, Mawhinney said, is getting address book and calendar information onto the new device. If that data is stored online with Google, syncing it with a new phone will be easier. Google also supports a contacts-only version of Google Sync for phones that support SyncML.
Multiple Devices, One Cloud
"This shows a general trend of putting more in a cloud, of having resources on multiple devices because people are interacting with so many different devices," Chris Hazelton, research director of Mobile and Wireless for The 451 Group, told TechNewsWorld.
"You may have a desktop at work, a laptop at home, and in between you have your smartphone. Managing all of those contacts can be difficult. It can be very helpful to take one or two steps and boom, all your contacts are synced," he added.
As it turns out, Google's new sync system is based on a license from Microsoft for its Microsoft Exchange ActiveSync protocol. ActiveSync is running on Google's servers. The protocol, of course, is for syncing contact and calendar data, but it also handles pushing email from servers to mobile devices — though Google hasn't announced or mentioned any push email options related to Google Sync.
Available but Not Perfect
On the downside, Google Sync is not yet without risks. It's still a beta, as is most every Google product, but this might be a beta with a capital "B."
"Please keep in mind that Google Sync may remove all existing contacts and calendar events from your phone, so make sure to back up any important data before you set it up," Mawhinney noted in his post.
In addition, iPhone users need to pay special attention.
"You can only have one Exchange account on iPhone, so if you sign up for this, it will delete your work Exchange account," Hazelton warned, noting that it's still great for iPhone users who have chosen not to connect to their work-based Exchange accounts.
There are some other known limitations. Right now, iPhone doesn't reflect the attendee status of guests in the user interface of the Calendar application. In addition, iPhone users are limited to five calendars, but Google says it's working with Apple on a solution for this issue.
In some cases, the iPhone doesn't respond correctly to change requests for individual instances of recurring Calendar events and creates duplicates of these events when a series of events spans a Daylight Saving Time boundary. In addition, some recurring events aren't completely removed from the calendar when a user declines them.
Lastly, iPhone can synchronize up to three email address, and phone number synchronization is limited to two Home numbers, one Home Fax, one Mobile, one Pager, three Work — making complete contact information for some contacts incomplete (if they have a gob of addresses and numbers users want to store about them).