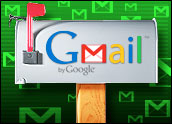 If you use Google's Gmail and like to access your account from several locations — work, office, your smartphone, Internet cafes, etc. — you can now remotely check the status of that account from all your log-in locations. Google announced a new remote signout and monitoring feature designed to enhance security for those who use several computers or connected devices in the course of a day.
"Your e-mail account can contain a lot of personal information, from bank alerts to love letters," wrote Erwin D'Souza, a Gmail engineer, on the Official Google Blog. "If you are anything like me, you probably sign in to Gmail from multiple computers. … With this new feature, you can now track your recent sessions and you can also sign yourself out remotely."
Logging Off From Far Away
The service is a nod to an increasingly mobile computing population; many of those who use Gmail from several locations might forget to sign out from an account. The new feature, which is slowly being rolled out to users of Firefox or Internet Explorer 7 browsers, features a log of activity at the bottom of your Gmail page.
"Frankly, it's the right answer," Paco Hope, technical manager for Cigital Security, told TechNewsWorld. "It's been done this way in security for so long. … The oldest mainframes and Unix systems from years and years ago would tell you where you logged in from on this date and at this time, and from this IP address. This is a well-known, worthwhile security system."
Locking Down on Security
Google also announced a new partnership with e-commerce titans eBay and PayPal designed to deal with the problem of phishing — forged e-mails appearing to come from the auction Web site or Internet payment system asking users for personal information.
Google now says all e-mails from eBay and PayPal will be authenticated by DomainKeys and DomainKeys Identified Mail (DKIM) verification.
"The technology they're using is kind of best-of-breed technology," Hope said. "It's not clear how scalable it's going to be, but if three behemoths of the Internet can do this, then anybody can do it."