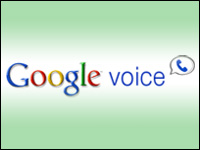 Just over a year after its beta launch, Google has opened its Google Voice service to all comers. During the invitation-only period, more than one million users signed up, according to the company.
It has spent that time taking feedback from those users and gearing up server capacity to take on significant growth, said Craig Walker and Vincent Paquet, Google Voice product managers, in a post on the Google Voice Blog.
One important question, though, is how many more people actually want to use the all-in-one-number service.
"It's not like the beta was keeping anyone out," Carl Howe, director with the Yankee Group, told TechNewsWorld. As with past launches such as Gmail, Google Voice invitations were easy to get hold of.
"Up to this point, anyone who really wanted to use it could," he observed.
Resisting Change
Those on the very bleeding edge of communication services did indeed show some uptake on Google Voice, which allows users to distribute one phone number and route calls to that number anywhere they wish, including land lines and mobile devices.
"The real sizzle with Google Voice is the ability to have just one phone number," Josh Martin, senior analyst with Strategy Analytics, told TechNewsWorld. In addition, services such as personalized voice mail messages for different callers caught the eye of those with multiple phone numbers and groups trying to reach them.
The problem is that businesspeople and consumers switching to Google Voice had to accept and distribute a brand-new phone number to use the service.
"It's the same challenge people had years ago when changing wireless carriers," explained Martin. That is, while having access to new features might be tempting, the process of informing everyone in your life that you have an entirely new main number is daunting and can easily outweigh the benefits — or at least delay someone's decision to switch.
Benefits there are, though, as Google Voice provides many features in addition to the single number access. Users can set up conference calls using the service. A transcription feature translates voice mails into text, which can be routed to an email account (however amusing the mis-heard portions may be in the current state of voice-to-text transcription technology). Alternatively, a player within Google Mail allows users to listen to voice mail audio files as email attachments.
For those users who balked at switching to a new number, Google offered the option of keeping a current number and using Google Voice with it. However, users have to make the trade-off of losing a few features, including conference calling and call blocking, to use Google Voice with their current numbers.
Not surprisingly, explained Martin, that prohibition kept Google Voice in a particular niche, and it is likely to remain there for some time.
VoIP – What VoIP?
Interestingly, what many observers are not mentioning is the fact that Google Voice also offers VoIP calling, just as services such as Skype and its competitors do. In its announcement of mass release of the service, Google touts free calls in the U.S. and Canada, low-priced international calls (a Skype mainstay), and the ability to dial any number on a Web page automatically when using an extension for Chrome.
Still, the service is not being positioned directly as a VoIP alternative, Martin noted.
"It took a long time to release that client," he stressed, "and Skype has the instant messaging feature."
Howe agreed, noting that although he is a user, he "had never even considered making a call with Google Voice."
In addition, while international calls may be cheaper through Google Voice than over landline rates or mobile calling plans, the service still is restricted to users in the U.S.
A variety of comments on Google's blog express dismay at this, especially since the announcement is titled "Google Voice for Everyone."
Commenter ChristianTM put it succinctly: "Important Note: US is not Everyone."