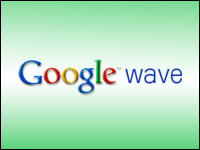 Five months of hype have roiled the waters for Google Wave. Is it an Outlook killer? The search giant's idea of a social network? One unified communications tool to rule us all?
The buzz began at May's Google I/O Developer conference. Now, after much talk in the tech blogosphere and among analysts, Wave is finally in preview mode. Some lucky invitees — yours truly included — were asked to join the testing phase by those who are either developers, key Google Apps business customers or those who were speedy enough to be among the first to volunteer.
A week's worth of playtime with Wave has left me excited about the possibilities and frustrated by the status that is "beta." I ran into lot of delays and snags, which kept me from getting the full picture of Wave's potential. To be fair, Google has been upfront that some of Wave's key features would not be accessible during the preview period, and after all, isn't the point of releasing a beta all about user feedback anyway?
So I had three failed attempts to share a document with a fellow Wave user based in Vancouver. Then another Wave invitee sent me a message; a former next-door neighbor — now in Beijing — was telling me he would be back in Seattle over the weekend, and I watched him compose his message to me in real time. The cursor moved back and forth within the instant-message-style window — the "blips" as Google calls them — that make up a single Wave. For a second, I felt like I was eavesdropping — but only for a second.
At that point, the coolness quotient and the potential for a new way of conducting business and personal communications via the cloud hit home. The snafus and "not ready for prime time" status only whetted my appetite to surf Wave in its finished form, and imagine what it could do for document work, social network-style messaging/link-sharing and even online game-playing.
Wave was indeed flooding my senses — not to mention exhausting my meager supply of water-based metaphors.
Watching Wave Work
"Greetings Renay! Wow absolutely none of this is intuitive to me. Hope you do better!" That was the text in the first blip of a Wave sent to me by a fellow Seattleite, someone who is fairly tech-savvy when it comes to things like Twitter and her iPhone. Indeed, getting started with the Wave experience requires paying close attention to the YouTube videos that are sent to you once you become a Waver.
The first (and goofiest) one features a clumsy product manager called "Dr. Wave," who points out all the panels and toolbars on the Wave page for navigation, contacts and incoming waves. "We need your help and your feedback to make this product even better," says Dr. Wave, as he talks up the real-time sharing aspects of the software. Other video links, each about 20 seconds long, go into more detail about various navigation features. However, I've discovered one thing that many early adopters and technophobes share, and that's the desire to plunge headlong into a new tech product or service without first reading the instruction manual. This does determine how intuitive the new product/service can be, but in Wave's case, this habit will only keep you from getting to the real-time wonders of Wave in a quicker fashion.
I was able to explore a larger Seattle-based users group and search out other Wave invitees, but I couldn't send out my own invitations. I found it easy to reply to blips, which can be done in three different ways, and simple to add contacts.
Wave is opening what I'm guessing is its version of an App Store: Wave extensions, specially developed programs that add both native and third-party functions and features to the software. The easily-installed ones provided at preview include business-related apps for conferences and video chat, productivity and tool features Trippy and AccuWeather.com, and a Sudoku game. The API-fueled sky's the limit here, and I can envision developers churning out apps for small and medium-sized businesses as well as innovative time-wasters that could take online gaming to another level.
As I mentioned before, I couldn't connect with a Waver based in Vancouver. I wanted his insight into a TechNewsWorld story I was working on regarding an unrelated topic, so I thought I would run a test and send him a blip with four detailed questions in the body of the message. I got no response to the first one, so I sent another that was slightly shorter. Nothing. My third attempt was about two lines in length. Again, nothing, so I called him and asked if he was online with Wave. He said he was and that he had just received my third blip. This led me to assume that longer messages were getting swamped by Wave's glitches.
My Vancouver friend said he had been hearing from others about Wave difficulties, but we both agreed that the thought of working on shared documents in real time with easily downloadable cloud-based software — possibly for free thanks to ad support — was intriguing indeed.
Ripples of Excitement
I give credit to Google for sending me some special messages in the latter part of the week whenever I encountered a problem. "Everything's shiny Cap'n," said the highlighted text at the top of the page. "Not to fret. Unfortunately, you'll have to refresh. Wanna tell Dr. Wave what happened?" A message box allowed me to tell the good doctor what my problem was and send it off. "Thanks for the feedback, please refresh your browser now" hit my page after I clicked "submit."
Because of quirky touches like that, I think Wave shows a lot of promise as a Web-based unified communications tool for the rest of us — if Google can create an iTunes kind of excitement around what is essentially a streamlined, easier-to-use version of an enterprise tool. Playing up the real-time sharing aspects, as Dr. Wave does in the introductory video when he tells users in a breathless manner that "if you have multiple people on a Wave, you can see each other's typing live," would be smart so as to differentiate the software from the kind of eyeball-glazing descriptions used by other companies. When used in combination with other Google products like Voice and Maps, the possibilities are truly endless.
Because you can expand or minimize the sizes of the different panels — contacts, inboxes, space for creative Waves — you have an element of control over this email/instant messaging/social network hybrid. As our information feeds become more cluttered, at home and at work, anything that helps all of us manage the digital input in our lives is much appreciated. If Wave smooths out its slightly troubled waters, it could have a real winner on its hands.