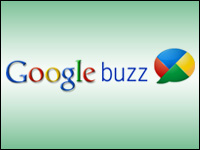 While the technosphere was busy Tuesday pitting Google's new Buzz service against Facebook and Twitter in some kind of social media steel-cage deathmatch, the search giant's executives were hinting at what they see as the real winning uses for Buzz — within the enterprise and out and about in the mobile arena.
"We think it will change the ways businesses will communicate," Bradley Horowitz, Google vice president for product management, told the audience of tech journalists gathered for the announcement Tuesday. "We've been testing Buzz within the context of our enterprise products and we found it invaluable."
Google cofounder Sergey Brin seconded that notion. "I found, personally, a huge amount of productivity value in using Google Buzz internally," he said.
Of course, you would expect those kinds of comments from Google as it tries to convince its Gmail users — of which many are in businesses large and small — to include Buzz's social media functions among their existing Twitter, Facebook and LinkedIn accounts. None of the executives on stage provided any specific details about rolling Buzz features into existing Google Apps enterprise products. However, that's not stopping industry observers from taking the next step and picturing how the company's version of real-time communications — coming from within a powerful Gmail framework — would be used by businesses both on the desktop and in the rapidly growing mobile force.
Enabling/Entangling Worker and Customer Communications?
"Just like Gmail, if you're a company looking to use this tool, you've got to be comfortable with Google storing all your data and conversations," 451 Group research director Chris Hazelton told TechNewsWorld. The company could initially roll Buzz into Google Apps for sales to small businesses and universities to speed up communications among coworkers, he said, especially as they head out the door with fully charged smartphones.
When it comes to facilitating customer conversations with companies, Buzz is simply following the bread crumbs left by consumers, said MobileTrax Principal Analyst Gerry Purdy. "There's lots of social interaction in the enterprise, because the enterprise realizes the customers are using and spending time in social media. The question is, how can they leverage what people are doing to enhance their brands and leverage the opportunity to do business?" Purdy told TechNewsWorld.
Yet Buzz also adds another layer of user-generated information that has to be managed within an IT framework. "If you're using Google Apps and you have your own domain name within Gmail, you can basically have everybody following each other in the company, and that can be very useful," Hazleton said. "But it also creates another workload for users. I may have email and instant messaging and now I have Buzz that I have to manage as well. That's in addition to Facebook, LinkedIn. And when you have a smartphone, that could be kind of cumbersome."
Thanks to the GPS and location-based capabilities for current smartphones and its existing Maps service, Google is also viewing ads for its mobile Buzz components as a potential revenue source. However, that might clog the pipes for IT managers — both from a power-efficiency perspective and competitive aspect. "A company will be very hesitant to allow a third party to see where its field force is, where its mobile workers are. That has implications for competing companies for sales. It would effect the efficiency of people out in the field and the efficiency of the device. If I'm paying for the device as a company; I don't want that device losing its charge because you have all these services leverage GPS that have nothing to do with work," Hazelton said.
The Mobile Biz Side of Buzz
One of Tuesday's demonstrations by Google mobile product managers involved conversation "balloons" appearing on a smartphone's Google Maps screen. That's the location-based "buzz" as users let followers know where they are and what they're doing. Now picture a restaurant advertisement also popping up somewhere, either in the balloon or on the Maps screen. Or perhaps a survey request from a nearby coffee shop, with the promise of a 10 percent discount on a latte if you fill in the form. Those scenarios illustrate the good, bad and (maybe) ugly of Buzz's potential with mobile advertising.
"We in the U.S. are way behind the mobile advertising curve compared to Europe and especially Japan," said Lon Safko, social media entrepreneur/consultant and coauthor of The Social Media Bible. "Mobile is already going through the roof, and more and more people will be accessing the Web and connecting socially through the mobile phone. Every app needs to be there, and the social networks that don't get to mobile quickly will be eclipsed by those who do."
However, the way those ads are presented in the mobile format will be key. Google has promised to deal with spam in Buzz, but more importantly, "people will not like advertising," Safko told TechNewsWorld. "It has been the demise of many social sites, unless it's done correctly, and Google has an amazing handle on that threshold. Contextual and unobtrusive? It would work," he said.
"Yes, that presence will be and is very valuable to advertisers, but the key is getting users comfortable with sharing that information, and that's what Google is doing," Hazelton said. "They're taking your location and providing all these services, like Google Maps, for free, and in exchange they're delivering that positioning data to advertisers. The trick is, how do you deliver that in an opt-in fashion that's acceptable so people won't get turned off?"
Apple's recent decision to buy mobile ad company Quattro Wireless may represent Steve Jobs' attempt to answer that question, Purdy said, while Google already has AdMob within its portfolio. "There's been word out that Apple is not going to allow you to insert ads into your iPhone apps. You may have to use Quattro Wireless to monetize knowledge of where people are. Everybody's thinking in terms of advertising opportunities."