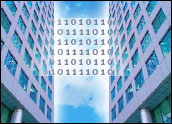 Maybe everybody involved in the debate over wireless spectrum white spaces should give each other a little, well, space, if the acrimonious comments broadcasting from Washington, D.C., this week are any indication.
Google cofounder Larry Page contributed to the high-stakes static during a speech Wednesday sponsored by the Wireless Innovation Alliance, which is lobbying the Federal Communications Commission to allow unlicensed access to the areas between television broadcast frequencies on the spectrum — the so-called white spaces.
Google, Microsoft and host of other technology companies have plans for opening up broadband to rural areas while manufacturing a new generation of wireless Internet devices, but Page alleged that an August FCC field test was "deliberately rigged" to fail. He called it "despicable."
His speech at the Dirksen Office Building came on the same day that the National Association of Broadcasters issued a press release, "Google Petition Ignores TV Interference Issues." Google and the Free the Airwaves Coalition funded an effort to collect 13,000 signatures on a petition drive backing the tech company's efforts, but the NAB is insisting that freeing up white space will block signals for TV stations and wireless microphones.
"Absent proven interference protection," the statement said, "Google's gamble on the future of television is not a risk Americans should be asked to take."
Crossing Signals Over Wireless Spectrum
Adam Kovacevich, Google senior manager for global communications and public affairs, directed the E-Commerce Times to the Google Public Policy Blog, where a video of Page's presentation can be found.
A related posting by Google's Washington Telecom and Media Counsel Richard Whitt does not echo Page's harsh language, but does attempt to shed more light on the company's understanding of what happened during the field test at FedEx Field in Landover, Md.:
"Those tests were intended to assess whether white space device prototypes could sense the presence of wireless microphone signals. However actions suggest that wireless microphone operators actually transmitted not on their normal channels but instead on channels occupied by TV broadcast signals. For instance, during the Fed Ex Field test, wireless microphones were improperly used on the very station that carried the broadcast of the game. As a result, the white spaces devices naturally could not detect the microphone signals, as they were hidden by the much more powerful TV signals," Whitt wrote.
Page's criticism was directed toward the wireless microphone industry, FCC spokesperson Rob Kenny told TechNewsWorld. There were problems with wireless microphones hidden by TV broadcast signals during the August test, he confirmed.
"We had looked at it from the standpoint of, can we identify wireless mikes using open channels," Kenny said. "We did learn that wireless mikes, because they're lower power and don't cause interference to broadcasters, they were actually on channels that were occupied (by TV signals). The signals was so strong from broadcast, we couldn't detect wireless mikes. But that's something we learned through the testing."
"It's a curious statement," said Dennis Wharton, NAB executive vice president of media relations, on Page's allegations of a rigged test. "We're scratching our heads trying to figure out what he's suggesting. Is he suggesting broadcasters rigged the test? The FCC? Beyond that, I'm not going to comment."
A Microsoft white space device also failed in a test earlier this year, Wharton told the TechNewsWorld.
"The big hurdle that Google, that all these (white space) supporters have to overcome is the fact that these tests have failed repeatedly, and for them to claim otherwise simply does not hold up to scrutiny," he said.
The Digital Switchover
The FCC's engineers continue to work on a final report, which should be ready within a few weeks, Kenny said. "We're proceeding forward, and the priority here is for Chairman (Kevin) Martin to insure that if there's a way to use the spectrum more efficiently, to unlicense its use, then that's something we're going to proceed with."
Also proceeding forward is the FCC's plan to transition all TV signals from analog to digital by February 2009. Does that transition have an impact on the white space debate?
"The digital switchover only allow for more white spaces," Kenny said, "because it better utilizes the spectrum. It allows for more traffic on the channel. It actually improves, potentially, the ability for use of the spectrum. Instead of having a two-lane highway, you have a four-lane highway."
Wharton says the DTV transition means broadcasters will actually have to give up a third of the spectrum they currently operate on — channels 2-69 get whittled down to 2-51 — with each TV station still getting the same amount of spectrum signal — 19.6 MHz — per station. "The thing about digital, it affords you an opportunity to send more than one program stream simultaneously from that 19.6 MHz of spectrum."
None of that changes the NAB's concerns about white space transmissions. "The digital signals could be impacted by introducing these devices."