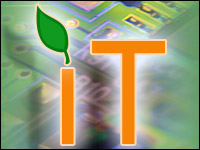 The quarrel over who uses the most — or least — harmful chemicals to make computer components seems to be dying down. In its place comes a debate over which companies are doing the best job to create and forward an agenda addressing global warming — not just for themselves, but for the companies that use their IT products.
Among global IT companies, Cisco is doing the best at addressing climate change and reshaping energy use, according to the rankings released by Greenpeace this week. The Cool IT Leaderboard, now in its third iteration, placed Cisco topmost for demonstrating the effectiveness of technologies such as its smart grid and office energy management solutions. Cisco earned 62 points out of a total possible 100 in Greenpeace's rating system.
Talking the Talk
"IT companies have been saying that they have the technology to reach a 15 percent reduction in emissions economy-wide by 2020," Daniel Kessler, press officer for Greenpeace, told TechNewsWorld. The "Cool IT" rankings, he explained, "are really a challenge to get them to step up and fulfill their rhetoric."
Still, rhetoric is itself part of the rating system used by Greenpeace to rank companies. One of the three categories on which companies are awarded points is based on "active engagement in political advocacy and support for science-based climate and energy policies." That is, elaborated Kessler, Greenpeace measures "what [companies] do in Washington, D.C., to say, 'Look, we need good policy that lets us grow responsibly.'"
Ranked sixth overall, Google remains the top-scoring company on political advocacy in this third Cool IT list. It has put forward a clear vision for moving to a clean energy economy, according to Greenpeace, which pointed to Google Eric Schmidt and his vocal position on the "failure of the current political system to get the policies right to drive transformative investment in clean energy technologies."
Another of the three categories for points gives credit for IT companies' "efforts to offer economy-wide technological climate solutions that contribute to global greenhouse gas reductions." That's the way Cisco earned lots of points. Ericsson, which ranks second in the overall list, also was lauded by Greenpeace in this category, for the "strength of its real-world case studies, which measure how its solutions are driving down emissions."
Walking the Walk
The third category of points is awarded for efforts the IT companies are making in reducing their own global warming emissions. Greenpeace took a shot at Google in this area, noting that the company does not release data on emissions created by its own operations but rather simply states that it is "carbon neutral."
Dell, Intel and Nokia, however, scored well in this category, which corresponds more closely to the ways Greenpeace has been measuring technology companies since 2004. Those earlier reports, including Greenpeace's popular "Guide to Greener Electronics," have focused on "getting large consumer electronics companies to start phasing out the use of toxic chemicals," noted Kessler.
Now, the organization is using lessons learned in those environmental advocacy efforts to get companies in the same sector to zero in on climate-related issues, he explained.