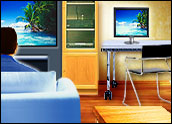 Delivery of television programming over computer networks using Internet protocols showed signs of a maturing market this week when nine major players supporting the technology announced the formation of a consortium to develop important standards for it.
AT&T, Ericsson, France Telecom, Panasonic, Philips, Siemens, Samsung, Sony and Telecom Italia on Monday founded the Open IPTV Forum, which will focus on the development of open standards that could be used to streamline and accelerate IPTV deployments and create benefits for consumers, network operators, content providers, service providers, consumer electronics manufacturers and infrastructure providers.
"This is significant," Colin Dixon, practice manager for IP media for The Diffusion Group, told TechNewsWorld. "It shows the telcos really beginning to mature in their approach to the market."
"They recognize that in order to keep costs down and drive acceptance of their service, they need to put standards in place," he added. "This is an effort on their part to work with the industry players to help do that."
End-To-End Approach
The breadth of its focus distinguishes the forum from other IPTV standards setters, according to AT&T spokesperson Jason Hillery.
"There are standards bodies out there today focused on various aspects of IPTV," he told TechNewsWorld. "What our group is focused on doing is bringing these standards together and really creating an end-to-end standard for IPTV.
"Once open standards are developed and carried across the board, they will help in keeping costs down and ensure interoperability of equipment and platforms," he added.
Dramatic Cost Savings
Open standards could drive costs down dramatically for IPTV providers, Dixon asserted.
"Think about the cost savings for AT&T if it didn't have to deliver a set-top box," he noted. "That takes (US)$110, maybe more, out of every single person that signs up."
"If I can hook up to my TV without a set-top box," Dixon continued, "it may even save a truck roll, somebody actually having to come to my house.
"One of the biggest costs that operators face is the cost of acquisition of customers," he added. "A good proportion of the cost of the acquisition of a customer is the cost of the equipment that goes into the house and a truck roll to install it.
"If by establishing standards they can eliminate set-top boxes in the home and a truck roll, they can save big bucks," Dixon declared.
Absent Players
Conspicuous by its absence from the founding members is Microsoft, which has been providing software for set-top boxes used by some IPTV services. "In fact, one of Microsoft's principal competitors, Siemens, is included," Dixon observed.
Hillery, whose company, AT&T, uses Microsoft's IPTV software, noted that the forum is an open body. "We anticipate our roster will be expanding over time," he said. "We can't speak to any individual company and what its plans are, but certainly we anticipate that the membership of the group will expand."
Another absentee from the founders is one of the largest IPTV provider in the United States: Verizon.
"Its architecture doesn't conform to any of the other operators that are in this forum," Dickson explained. "It leans heavily on the cable world. Although it uses fiber and IP in the back end, inside the home, the television is delivered in the same format as cable TV.
"Its solution, particularly in the home, is markedly different to all of the other IPTV providers," he added.
Ambitious Timetable
The forum says it plans to establish requirements and architecture specifications as well as protocol specifications by the end of this year.
"Lets see if they can deliver on that promise," challenged Dixon. "That's pretty ambitious, but notice that they're very vague about what they're going to deliver by the end of the year."
"It certainly is ambitious," AT&T's Hillery acknowledged, "but at the same time, the industry is moving very quickly, so the goal of the group is to do the same."
"I hope they can meet their target," added Manuel Vexler, vice president for operations and IMS interoperability for the IMS Forum, a group working on standards for the next generation Internet.
"It's very aggressive," he told TechNewsWorld. "It's possible, however, that they're starting from a set of existing standards, so they're looking at a set of refinements."