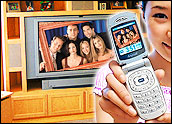 NBC Universal on Wednesday said that it will sell episodes of "The Office," "Heroes," "ER" and other prime-time television shows on-demand over cell phone networks throughout the U.S.
The New York-based company struck a deal with MobiTV, a mobile and broadband TV outfit that since 2003 has worked with NBC on developing a mobile TV network.
Consumers will be able to access full-length episodes of some NBC prime-time shows starting at US$1.99 for a 24-hour viewing period. In addition to NBC programming, the service will offer content from USA Network, Sci-Fi Channel and other sources.
High-Quality Streaming?
NBC is the first major network to offer viewers wireless access to its shows on-demand, explained Jean-Briac Perrette, president of NBC Universal Digital Distribution. In addition, NBC will provide another platform that will enable its partner advertisers to reach their audience.
MobiTV has for years provided on-demand video clips and live streaming services to mobile devices, but the picture quality and overall user experience has not attracted a wide audience, said Robert Enderle, principal analyst with the Enderle Group.
The problem is that most people don't want to stare at a tiny cell phone screen for long stretches, Enderle told TechNewsWorld, noting that, for example, only five percent of those who purchased the iPod actually use it to watch video.
Obstacles Ahead
Broadcast TV-to-mobile phone technology has faced numerous obstacles, not only related to picture quality but also including technical issues such as lack of broadband availability to the relatively short battery life on phones. However, developing and improving this technology and the underlying networks is considered a "Holy Grail" in terms of potential revenue for both content providers and phone networks.
"Streaming TV content is a highly attractive method of generating significant data revenue," said Enderle, adding that it is not clear if there is a substantial market for MobiTV-type services.
Technical Issues
MobiTV packages are currently available on several wireless carriers, including Sprint, Cingular/AT&T, and Verizon Wireless in the U.S.
Currently, there are several more services testing or selling mobile devices that offer simulcast programming from broadcast networks and cable channels. For example, MediaFLO, which was branded V Cast Mobile TV, was launched by Verizon Wireless in 20 markets on March 1. Eight channels offer programming that can be viewed on Samsung phones.