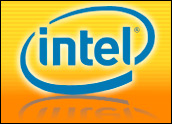 Intel unveiled its 3 Series chipset family designed for playing high-definition media and for supporting the company's 45nm Penryn processors due later this year.
The highly anticipated chipsets, formerly codenamed "Bearlake," were presented at the Computex Taipei trade show in Taiwan.
The first chipsets from the series — the P35 and G33 — are available immediately with more due later this year, including the G35 and X38 that Intel plans to start shipping within 90 days.
The G33 and G35 Express chipsets provide integrated graphics, support high-definition multimedia interface (HDMI) and include Intel's Clear Video Technology.
In addition, system builders will be able to support HD DVD and Blu-ray disc playback with the chipsets.
Pushing the Platforms
The chips enable several innovative features for PCs, such as improved performance, clearer definition video and storage technologies that help better protect valuable data, according to Rob Enderle, principal analyst with the Enderle Group.
"They are pushing [a] platform strategy that promises more power efficiency and performance," Enderle told TechNewsWorld.
The chipsets refine a number of platforms, he said, from small form factor applications through desktops.
Increasing Speed
The Intel 3 Series chipsets support DDR2 memory with data transfer speeds up to 800 MHz, or DDR3 up to 1333 MHz, enabling fast access to files and a more responsive PC.
The chipsets support PCI Express 2.0. The chips also support Intel's Turbo Memory, which enables faster application loading and boot times.
"In each case, it represents significant advancement over what came before," said Enderle.
Going Mobile
A mobile version of Intel's Core 2 Extreme chip is slated to hit store shelves in high-end gaming notebooks equipped with Nvidia's graphics system.
The notebooks with Nvidia's SLI (scalable link interface) technology, which use two graphics chips instead of one, are intended to replace high-end desktops used by gamers.
The idea is to extend the company's Extreme Edition brand first introduced for desktop PCs in 2003.
"The gaming segment has been incredibly lucrative, and Intel is now looking to want to play aggressive to position themselves," said Enderle. "There is a very high margin there."
Emerging Market Notebooks
The company also announced it is working with Taiwan hardware maker Asus Computer to produce a line of notebook PCs priced under $200.
The low-cost notebooks will run either Linux or Microsoft Windows operating systems and will be produced for emerging markets.
Intel is looking to showcase its technology and demonstrate its ability to hit the low price range, Enderle said.