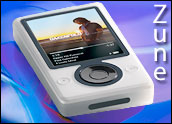 Microsoft garnered a lot of buzz this week after reports broke the software giant had shipped its 1 millionth Zune — putting it ahead of a company goal set shortly after it launched its MP3 player in November. However, those reports apparently were jumping the gun.
Robbie Bach, the president of Microsoft's entertainment and devices division, was quoted in the San Francisco Chronicle as saying the device had already passed the 1 million milestone. However, a podcast of the interview posted on the newspaper's Web site contradicts that statement, suggesting only that Microsoft is on schedule to meet its goal of 1 million Zune sales by June 30, the end of the fiscal year.
Microsoft spokesperson Kristin Oak confirmed the mistake, telling TechNewsWorld that Bach had been misquoted and that the company has not made any announcements regarding overall sales numbers. However, Microsoft is on target to reach its initial goals, she maintained.
Zune Confusion
Bach was reported in the newspaper as saying, "We're still about nine months into having Zune in the marketplace. We're very pleased with the progress. We've sold a little over a million Zunes."
However, a quick listen to the podcast reveals that he said "When we finish our fiscal year in June, we'll have sold a little over a million Zunes. So, we feel very good about that."
Subtle Differences
While the editorial slip might not seem like a very big deal, the mistake changes the outlook for the device from better than expected sales to the same estimates offered in November, said Zippy Aima, an analyst with Frost & Sullivan.
"Zune is not anywhere close to iPod in sales," Aima told TechNewsWorld, "and Microsoft not being ahead of predictions isn't surprising."
While conceding that Zune sales didn't have an "overwhelming start," Microsoft executive Robbie Bach said he was "very pleased" with the music player's progress.
Although the Zune has been on the shelves for about nine months, Microsoft has picked up 10 percent market share in the hard disk based music player category, he added.
Chasing the iPod
Even without the "better than expected" sales, Microsoft is ahead of Apple's ubiquitous iPod in sales compared to the same nine month time frame when it was launched six years ago.
The iPod took 14 months to reach 600,000 sold units, although the MP3 player market was still developing.
"Six years into this market, Apple has the advantage of having multiple generation iPods and different price points for different consumers," said Aima. "They are always going to have a competitive edge over anyone in this market."
In fact, Aima points out, since Zune debuted, Apple has sold about 25 million iPods, and in April, the company announced it sold its 100 millionth iPod.
"The Zune has a long way to go," she concluded.