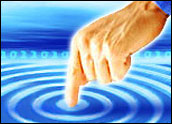 HTC has launched a Windows Mobile smartphone with a touch screen interface strikingly similar in concept to Apple's upcoming iPhone.
The new phone, dubbed the "HTC Touch," is a multimedia handheld system with an animated 3-D user interface called "TouchFLO" that allows users to move through on-screen options by sweeping their fingers across the screen, or scrolling up and down using a fingertip.
The Touch, based on Windows Mobile 6, has a 4-ounce battery with life of up to five hours of talk time or 200 hours on standby, according to the company.
Taiwan-based HTC is the largest maker of mobile devices based on Microsoft's Windows Mobile operating system.
Similar Screens
The 2.8-inch screen on HTC's Touch has features similar to the touch screen features on the iPhone, which is due to hit shelves on June 29.
"They do offer some similar technology, but it will be tough to compete with Apple in this space," Zippy Aima, an analyst with Frost & Sullivan, told TechNewsWorld. "Most consumers are going to wait and have a look at the iPhone before making any decisions."
Phone makers have done a good job of cramming more functions into handsets, said HTC Chief Executive Officer Peter Chou, but new user interface technologies have not kept pace with the hardware — that is, until the development of the Touch.
"With the HTC Touch, access to your most commonly used content, contacts and features is only a simple finger flick away," he said.
Too Close for Comfort?
The new touch-based user interface immediately drew comparisons with Apple's iPhone, slated for launch at the end of June. As is the case with the iPhone, HTC's new handset lacks 3G capability, opting for GSM/GPRS (global system for mobile communications/general packet radio service) and WiFi compatibility instead.
Although Apple also highlights touch screen functionality as a key reason to try out its iPhone — including scrolling through songs and movies on its 3.5-inch wide display — there are differences between the two offerings.
The iPhone's focus is on entertainment, while the Touch is geared toward e-mail and other business-related uses.
The Touch's animated interface offers three views: contacts, media and applications. Each view supports finger control for scrolling through documents and browsing Web pages.
The device also comes with a digital camera and a 1 GB MicroSD Flash card standard.
Battling Apple
HTC executives have denied the gadget was designed with the iPhone in mind, but Aima says it is obvious the Touch is going to be pitted against the iPhone.
"Apple will always have the advantage," she maintained, "for the simple fact of what they have already achieved in terms of marketing. HTC may indeed be able to compete with technology, but it will be hard to fight the Apple brand."