Western Digital subsidiary HGST has found a novel way of packing more storage capacity into a standard 3.5-inch hard disc drive: filling it with helium instead of air. Now, it is bringing the first product of this type to market.
The 6-terabyte Ultrastar He6 HDD is the highest-capacity drive in the world, according to the company. HGST has achieved this by packing seven disk platters into the drive instead of the standard five.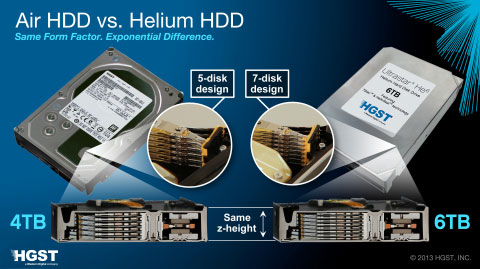 Disc platters, which store data, spin at thousands of revolutions per minute, causing air drag inside the enclosure. Since helium has one-seventh the density of air, the hermetically sealed Ultrastar He6 reduces that drag and allows for less physical space between the platters, allowing the manufacturer to cram in more platters and thus increase storage capacity.
Considerable Savings
"I think that in large deployments, the savings could be considerable," Charles King, principal analyst at Pund-IT, told TechNewsWorld. "Not only could it impact [total cost of ownership], cloud, and other large-scale environments, but it could make the HGST solution attractive in archive and other applications where tape is more commonly used."
It's a novel way of increasing storage capacity, compared to other approaches that focus on ways to cram more bits onto a platter's surface area. The move to fill the Ultrastar He6 with helium resulted in a drive that offers a 50 percent capacity improvement over conventional 4-TB drives, reduces idle power per drive by up to 23 percent, and allows for a lower temperature — 4-to-5-degrees Celsius — within the drive. It is also around 50 grams (1.8 oz.) lighter than a standard 3.5-inch HDD.
"Longevity might be higher," Rob Enderle, principal analyst at the Enderle Group, told TechNewsWorld. "When you're not heating things up, bearings can last longer. By containing the heat, the drive can have a longer service life and you can have fewer failures."
Fine-Tuned Design
HGST fine-tuned the design over a six-year period through the design and development process. It demonstrated the HelioSeal technology for casing the helium-filled drive in Sept. 2012.
The drive appears to offer cloud storage companies the opportunity to pack more drives into their data centers, while running on less power.
Several high-profile cloud, research, and manufacturing companies are working with HGST to qualify the Ultrastar He6. HP, Netflix, Huawei, Green Revolution Cooling Code42 and CERN — the European Organization for Nuclear Research — are trying out the drives. Some of the largest search and social media companies are testing the Ultrastar He6 too, according to HGST.
Liquid Cooling Potential
One of the big selling points HGST is touting for the Ultrastar He6 is the potential to use it in liquid cooling systems. Though liquid can cool drives more efficiently and allow a more constant operating temperature, it is not suitable for traditional drives since the liquid could seep inside. However, the Ultrastar He6 is airtight and would be suitable for use in such a system, HGST suggested.
The company is demonstrating the liquid cooling functionality of the HDD at the Cloud Expo Silicon Valley in Santa Clara, Calif., from Monday through Thursday.
Conservative Market
"Storage is a very conservative market. Nobody likes to be the first [to adopt] new technology," Enderle said.
However, if the Ultrastar He6 "proves to be successful, it could redefine how we do rotating media and could further proliferate liquid cooling throughout the data center," he added.
"Typically, liquid cooling has been reserved to server systems — liquid cooling is a bigger issue there because the amount of heat created by servers is considerably higher than it is for storage arrays," Pund-IT's King noted, "but if this works as advertised, I could see where liquid cooled storage could become an option. Liquid is far more effective for cooling than air is."
Wide Adoption
As compelling as the HGST solution may seem on the surface, it could take a strong push by the company for the drive to be widely adopted in a market reluctant to try novel solutions.
"If you're storing critical data, there's probably going to be a certain amount of hesitancy on adopting this product widely until it's a little better understood and better tested," King said. "If HGST succeeds, though, I can imagine a lot of companies going out of pocket for this."