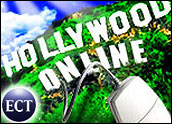 As the television-watching world continues to suffer through re-runs and a new crop of hastily concocted reality shows, Hollywood screenwriters and producers continue their standoff. The writers say they deserve additional payments for their work. The producers say they can't afford to make those payments. From the outside, it looks like a typical labor dispute.
At the center of one of the highest-profile work stoppages in years, however, sits a thorny tangle related to technology — the Internet, specifically — and how it will figure into media's future.
People who create television programs and feature films already feel that they lost a big chunk of revenue when those programs began distribution on DVDs, Josh Martin, analyst with Yankee Group, told TechNewsWorld. Now that films and TV episodes are being distributed over the Internet, they don't want to make the same mistake again.
Two Revenue Models
The first thing to understand about the writers strike is that not all digitized content is alike. One way for consumers like you and me to watch episodes of our favorite TV shows after they air is by buying or renting them. Studios go to great lengths to package entire seasons of popular shows like "The Sopranos" or "Six Feet Under" and market them to buyers wanting to build their home libraries. If we don't want to invest in the discs themselves, we can always rent them at the corner Blockbuster or through an online service like Netflix.
"Writers feel that they conceded on DVDs and got cut out of the money as a result," noted Martin. That may be in large part because shows began to be distributed in digital format before anyone had a real sense of what the eventual market would be. No one could have predicted how many times viewers would re-watch shows on DVD, points out Martin; it was a nascent market when both writers and directors agreed to give up a large portion of the residual payments to which they may have been entitled.
Now, another market is emerging from infancy. TV viewers who miss the latest episode of "Grey's Anatomy" or "Desperate Housewives" can sit in front of their computer screens and watch the shows streaming directly from network-supported sites. Commonly referred to as "ad-supported streaming," this model garners revenue from companies that insert advertisements into the shows as they play, rather than consumers who buy the shows in digitized form.
Directors Cut Deal
In fact, the Directors Guild of America made a tentative agreement with producers — represented by the Alliance of Motion Picture and Television Producers — that covers just this issue. "[T]he Internet is not free," stressed DGA president Michael Apted, speaking of the terms of the agreement, which was reached late last week and is yet to be approved by DGA members. "We must receive fair compensation for the use and reuse of our work on the Internet, whether it was originally created for other media platforms or expressly for online distribution."
The delineation of various methods of digitized distribution is a key part of the directors' deal, DGA spokesperson Sahar Moridani told TechNewsWorld. The section of the agreement covering such distribution gives producers a window in which they can replay programs on the Internet without making any additional payments to directors. That window is from 17 to 24 days, depending on how many seasons the program has already run. After that, ad-supported streaming will indeed be subject to additional payments to directors. In addition, producers have agreed to increase payments substantially for TV programs and feature films that consumers purchase, via paid download, over the Internet rather than on DVD.
Writers Next?
The DGA deal raises the question, of course, of whether or not the Writers Guild can use it as a basis for its own negotiations with producers. The WGA is quick to point out that the stalemate was begun by producers, not its own organization. "The WGA has been ready and willing to negotiate with the conglomerates since they walked away from the table on Dec. 7," Gregg Mitchell, WGA spokesperson, told TechNewsWorld. He noted, though, that he was unable to confirm any scheduled talks arising in the wake of the producers' deal with the DGA.
What the DGA deal does do, though, is provide precedent for approaching some of the issues on the table. Buying shows and movies either online or on DVD is one thing. Watching them for free is another. The fact that companies will be willing to pay increasing rates for advertisements in those free programs must be accounted for in the payment equation.
Growth of a Model
Producers and studios claim that building the sites through which viewers access that free, ad-supported streaming media is expensive and chancy, pointed out Martin. They assert, in addition, that streaming TV shows to consumers is simply part of their promotional efforts to build audience for those shows. In fact, the DGA agreement does recognize the promotional aspect of streaming television shows by establishing that initial window.
However, points out Martin, advertisers will bring all the analytic tools they've used in online advertising for years to categorize the viewers who watch those ad-supported shows. Before long, they will be applying segmentation and targeting — the kinds of personalization tools used in areas such as online shopping — to the viewers who choose to watch their TV shows online. At that point, he explained, the potential for more lucrative advertising deals becomes a reality.
In addition, the model for distribution of those movies and TV shows that consumers want to purchase outright — rather than watch just once in streaming format — is moving toward the Internet, stressed Martin. "No more physical packaging will be involved," he pointed out, which will result in significant cost savings in distribution. "These are compelling business models," he asserted.
No doubt the Writers Guild of America thinks so, too.