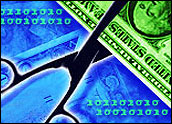 Hop-On, a small cell phone company based in Irvine, Calif., has released what it says is the antithesis of Apple's iPhone — the HOP1800, a US$10 bare-bones GSM (global system for mobile communications) cell that doesn't take pictures, doesn't play music, movies or podcasts, doesn't surf the Web, and doesn't even do text messaging. In fact, it doesn't even have a screen of any kind.
So what does it have?
A standard keypad, plus a green button for placing or answering calls and a red button for ending them.
Hop-on positions the HOP1800 as one of a new breed of ultra convenient cell phones that are ideal as a backup phone, for traveling abroad, or "for anyone looking for a super affordable cell phone that does one thing extremely well: make phone calls."
The 'Anti-iPhone'
Perhaps looking to leap onto the iPhone's marketing and hype bandwagon, Hop-On's CEO Peter Michaels notes, "Though the iPhone is an amazing device, I challenge anyone to make a call faster than with the HOP1800. With the cost of living and roaming fees going though the roof, the HOP1800 is also the perfect iPhone traveling companion. Just buy a local SIM (subscriber identity module) card and you can use the HOP1800 with over 40 domestic wireless carriers."
The $10 phone does not come with a SIM card, so users will have to swap one out of another phone or buy one. If the user isn't swapping out a SIM associated with an active plan, he or she will need to buy a prepaid phone card for minutes. The phone can be used with AT&T, T-Mobile and through Hop-On's own Graffiti Wireless network.
The Specs
There are two models of HOP1800 phones. One is a Dual-band 850/1900MHz (for the U.S. and Canada) and the other is 900/1800MHz (for Europe and Asia). The phones feature four or five hours of talk time (the published specs note both numbers in different places on the company's site) and 150 hours of standby time. The HOP1800 uses Infineon chipsets, which Hop-On says provide excellent audio quality, reception and call stability.
The phone does come with a travel charger. Plus, it offers eight locations for speed dialing, has call waiting, call forwarding and vibration. Available accessories include a car charger, headset and leather case.
Segmenting the Market
The cell phone world has been dominated by the presence of increasingly complex and sophisticated smartphones. A lot of talk among consumers and the media mentions the Apple iPhone and other devices that bring e-mail, Web surfing and multimedia functions to the handset. These phones are not generally cheap; most cost dozens of times more than the HOP100. Obviously, not everyone can afford them — is there a whole other world of cell phone users out there?
"The cell phone business is breaking up into two distinct segments — those who just want a phone at a low cost, and those who want a mobile device with all the features," Jeff Kagan, a telecommunications and wireless analyst, told TechNewsWorld.
"Then there are a variety of devices in between offering customers just what they want. As the economy tightens, this kind of basic phone may do well," he added.