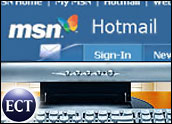 In the race for message storage space among Web-based e-mail providers, Microsoft's Hotmail has just leapfrogged Google's Gmail.
Customers with a free Hotmail account now will have 5 GB of storage; those with a paid account will have 10 GB, according to a posting on the Microsoft Live Hotmail community blog by Ellie Powers-Boyle, program manager.
This compares with the just above 2.5 GB that Google provides users of free Gmail accounts. Thus, Hotmail has once again stepped up in the competition for the loyalty of Web-based e-mail users.
The move likely will be enough to keep existing Hotmail users in the fold, Rob Enderle, principal analyst with Enderle Group, told TechNewsWorld. However, Hotmail service upgrades may not be enough to lure users away from competing services.
Need for Speed
In addition to the increased storage, Hotmail users will see better speed performance on the system, said Powers-Boyle. This, she noted, has been a big issue among customers providing feedback to the Hotmail development team.
The upgrade also includes a tool for eliminating duplicate entries in the Hotmail contact list and provides for longer retention of messages in folders holding junk and deleted messages. Users now can disable the "Today" page that automatically displays MSN news items and open directly to their Hotmail inbox if they wish. The changes will be rolled out over the next few weeks, said Powers-Boyle.
POP Goes the Customer
What the new Microsoft Live Hotmail does not provide — much to users' disappointment according to comments on the blog announcement — is support for POP3 (post office protocol version 3). Gmail and Yahoo Mail allow users to download messages using client software as Thunderbird or Eudora on their own computers. However, Hotmail still does not.
This issue affects not only customers accessing Web-based e-mail through their personal computer, but also that fast-growing group of users who use their mobile phones as a primary communications tool. The edge, though, remains with those e-mail services that are bundled into existing mobile phone screens, said Enderle.
"The fact that Google has been signaling its entry into the cell phone business likely will make it more difficult for a cell phone provider to work with Google and give Yahoo and Microsoft a bit of an advantage," said Enderle.
Although providers such as Verizon are beginning to provide POP access to e-mail through smartphones, many users likely will remain loyal to Hotmail as it continues to appear on their mobile phone Web interface menus.
"Of course, when Google does do its own phone — assuming it is successful — this advantage could shift back," noted Enderle.