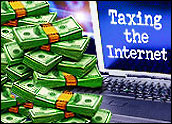 The House Judiciary Committee has approved a four-year extension on a ban on taxing Internet services, endorsing what would be a mixed blessing to cable, telephone and Internet service companies that want Congress to make the ban permanent. The current moratorium, which is nearly a decade old, will expire Nov. 1, 2007.
DontTaxOurWeb.org, a coalition of companies and trade associations dedicated to keeping Internet access services free of all federal, state and local transaction taxes, wants the federal moratorium to be permanent. The coalition is backed by industry heavyweights like Amazon.com, AOL, AT&T, eBay, Google, Quest, Sprint, T-Mobile, Verizon, Yahoo and many others.
Two bills the coalition backs have languished on Capitol Hill since May, but this latest bill, H. R. 3678, the Internet Tax Freedom Act Amendments Act of 2007, would extend the moratorium until 2011 — but would also update the definition of the law.
DontTaxOurWeb.org was unavailable for comment at press time.
Governors Are Game
The National Governors Association supports a reasonable extension on the moratorium, particularly since the new amendment would pave the way for the taxation of services that might otherwise be safe from taxes under the current law. For example, VoIP (Voice over Internet Protocol) is a telecommunications service that can be bundled with Internet access plans and delivered over the Internet. So, in this case, a VoIP customer could slide by paying a traditional local or state telecommunications tax.
"The law, as it stands today, is using a 1998 definition of Internet access in a 2007 world, and it just doesn't work. One of the reasons — in 1998, we were lucky if you had 56k[bps] dial-up. The definition says Internet access is a service that gives you access to the Internet but also includes any service you can bundle together," David Quam, director of federal relations for the National Governors Association, told TechNewsWorld.
"Well, in a broadband world, where everyone is marketing a triple play of phone, television and Internet, just to name some common services, you're talking about services that make up a traditional state and local tax base possibly becoming tax free because of a federal moratorium that uses a bad definition from 1998," he explained.
The intent of the new amendment, then, would be to get the law back to Congress's original intent, Quam noted, to essentially change the definition to say the connection to the Internet is tax-free, but that all of the services that can delivered over the Internet are not necessarily tax free. Services that simply use the Internet as a delivery backbone would be subject to state and local law for taxation purposes.
Not Everybody Wins
"This is one of those situations where we can have a win win win — state and local government, industry, and consumers, with a reasonable extension on the moratorium can be reasonably well-served," Quam said. "The bill that came out of the House committee is a good and balanced compromise between all of those interests."
The amendment, of course, leaves the door open to adding taxes to Internet services in 2011, and for some lawmakers, particularly Republicans who have been pushing for a permanent ban, that's not good enough.
House Republican Whip Roy Blunt (Mo.) called on Democrats to demonstrate their commitment to strengthening America's digital economy by making the Internet tax ban permanent. "If Democrats think that extending the Internet tax moratorium for an additional four years is a good thing, then why not go the extra mile and make it permanent? This is the kind of commitment that our vibrant digital economy needs to stay strong," he noted.
The amendment, of course, still has to survive a vote by the House of Representatives. The Senate has also been arguing over this issue to no definitive effect.