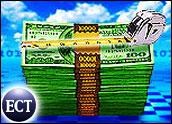 This is the eleventh and final installment in a series on building a Web site for your small business. Part 1 looks at essential elements of a business Web site. Part 2 offers basic site design guidelines. Part 3 tackles some advanced design issues.Part 4 examines social media tools for building traffic.Part 5 compares outsourcing with doing maintenance work in-house.Part 6 offers tips on marketing your site. Part 7 covers analytics for measuring effectiveness.Part 8 delves into content management issues.Part 9 investigates security and transaction processing.Part 10 discusses issues concerning customer privacy.
Ask Jennifer Derrig if she can tell you her return on investment (ROI) for her Web site, and she has the numbers at the ready.
"I look at it the way I would a physical storefront. If I went out to get a retail space in a prime location, it would cost me (US)$5,000 a month," she told TechNewsWorld. "I pay less than $600 for Homestead, including the URLs."
From that point on, the math is simple: She takes her monthly sales numbers, (which just happen to tracking at 40 percent higher than her previous year's sales), subtracts her Homestead and advertising costs (along with any other basic business expenses such as shipping and handling), and the ROI is pretty much a done deal. "It's all easy because it's a tangible measurement."
A Moving Target
However, for many small businesses, figuring out ROI for your Web site is not that straightforward. Comparing sales revenues to operating costs is a standard measure of success, but if you're not selling product on your site, then zeroing in on your ROI can be "as elusive as a unicorn," John R. Gilbert, vice president and director of the digital solutions group for Bader Rutter, told TechNewsWorld.
"In this day and age, businesses of all sizes are looking for more demonstrable ROI than they may have in the past," Gilbert said. "People are asking themselves, where is the impact [of my Web site], and am I getting my investment back?"
While results may seem elusive, the upside is that you are dealing with "the ultimate measurable medium," he added. "Web sites and other digital media are much more measurable than a lot of traditional offline communications. If you play your cards right, it gives you a lot more bang for your buck than just about any other kind of marketing communications."
The fact that digital content is easy and inexpensive to reproduce and share globally adds to the appeal. "It pretty much has a 100 percent potential for reuse," Gilbert said. "That's one big testament to improving your ROI."
Goal Setting
Before you start doing the math with your analytics program of choice, there's one fundamental step you have to take: Understand your objectives. For many, that doesn't necessarily mean closing a sales deal.
"If you don't have a good grip on what your expectations are for your site, it's hard to talk ROI," Gilbert said.
"Technically, you need to define one or more very specific target actions you want to accomplish. Maybe it's to get a visitor to buy one of your widgets, fill out a form, ask a dealer to contact them, or subscribe to a newsletter. You must know what those target actions are. Then you can figure out your ROI from data captured by your Web analytics tools," he explained.
"While the answer can vary depending on your business, it all comes down to what results you want from your site," Darren Guarnaccia, vice president of marketing for Sitecore, told TechNewsWorld. "It could be about generating revenues or leads, maximizing worker productivity, or minimizing costs. Whatever it is, that's what drives your ROI."
B2B (business-to-business) sites can entail very different metrics from B2C (business-to-consumer), he noted. "One is more service-oriented for the most part, while the other tends to be focused on sales, so the nature of the ROI can be pretty different."
Unless you're a business selling a specific product, it could be challenging to make sense of your ROI, asserted Jim Keller, CEO of Context.
"It comes down to defining your goals," he told TechNewsWorld. "If it's not to sell visitors something, then it's to generate a warm lead. Then you have to define what that warm lead is worth in terms of dollars and cents."
Define a "goal tunnel" by identifying the ideal path you would like a potential buyer to make, advised Keller. "If someone reads a certain page, was that worth $5 or $50 to you? Is it worth more if they contact a certain person on the site over another?"
Eyes On the Prize
One of the biggest challenges in ROI is that people tend to focus on the lowest common denominator, such as technology tools, added Sitecore's Guarnaccia. "It's not really about that. People mistake the toolset for the outcome. It's like trying to measure the ROI of a wrench. There isn't one unless you measure how much faster it helps you to turn the screw. Technology is the same — it's an enabler that delivers value."
B2B measuring points are easier to get at if you look at your Web site as a business application and not just pages, he explained. Relevant measure points in those cases would include such things as increased lead flow/generation, appointment bookings, conversions or calls to action.
Other measure points include time people may spend on your site (engagement time), where they are going, bounce rates, sale cycle time and transaction size. "If something you've done increases the average transaction size and led to bigger basket counts, then that's a measure point," Guarnaccia said.
However, if you're one of those who thinks increased traffic is a telling indicator of ROI, don't always count on it, said Keller. "A lot of people focus on hits, but that doesn't mean anything if you aren't generating conversions. Hits and visits can be worthless if they don't generate results. If you have a million visits that lead to only 10 sales, that hardly compares to having 500 visits generating 100 sales."
Tools that can help in breaking down these types of activities include Google Analytics, Google Website Optimizer, Webtrends and Omniture.
"All of these have tools to report where people are going and their interest level," Guarnaccia said. Sitecore itself has incorporated similar analytics and testing tools into its service offerings.
Cost Cutting as a Measure of Success
Cost reduction is another way you can look at your ROI, Keller said. "Does your site help you reduce your customer service and support costs? Did visitors read your reports and white papers online? Then that's cheaper than mailing them, so it goes to your ROI."
A site that is heavily oriented to customer service could improve ROI through cost avoidance, Guarnaccia noted. "Every phone call from a customer could be costing you $25. If your site can reduce that, then that drives results."
It stands to reason, therefore, that enabling customer self-service through your site can go a long way to helping the ROI cause.
"A reduction in call volumes can translate into more sales time for your representatives," Guarnaccia explained. "How much value is that time to your organization? Many businesses may be spending more than 40 percent of their time fielding non-revenue-producing customer inquiries. If you can alleviate that, it's like adding multiple people to your sales team."
Whatever your goals and your measurements, ROI is not as elusive as you might think. It's simply a matter of perspective.
How to Build a Small-Business Web Site, Part 1: Nuts and Bolts
How to Build a Small-Business Web Site, Part 2: Design Basics
How to Build a Small-Business Web Site, Part 3: Advanced Design
How to Build a Small-Business Web Site, Part 4: Web 2.0 Tools
How to Build a Small-Business Web Site, Part 5: Outsource or DIY?
How to Build a Small-Business Web Site, Part 6: Marketing for Success
How to Build a Small-Business Web Site, Part 7: Analyze to Optimize
How to Build a Small-Business Web Site, Part 8: Content Management Simplified
How to Build a Small-Business Web Site, Part 9: Security and Transaction Processing
How to Build a Small-Business Web Site, Part 10: Minding Your Privacy Ps and Qs