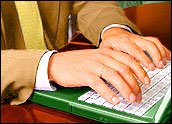 This is the fifth in an ongoing series on buiding a Web site for your small business. Part 1 looks at essential elements of a business Web site. Part 2 offers basic site design guidelines. Part 3 tackles some advanced design issues.Part 4 examines social media tools for building traffic.
Many small-business operators have been especially hard-hit when it comes to managing their IT resources — including their Web sites. Those who want to keep up a professional front despite the recent economic woes might find they can do a lot more with less with some strategic outsourcing.
"The economy is making [small-business owners] jittery when it comes to committing dollars," Michael Schultz, director of marketing and product manager for Microsoft Office Live, told TechNewsWorld. "At the same time, they see Web design as a huge investment to worry about so are much more open to the idea of [outsourcing functions through] low cost or free services."
According to a recently released Microsoft/Elance-sponsored study conducted by Decision Analyst, just over half of small businesses surveyed intend to maintain their current staffing levels. Nearly one-third of businesses believe they may need to hire contract or freelance help. In particular, small-business owners surveyed said they were most likely to hire freelance workers to help with their Web design, marketing and sales efforts.
The Inner Workings
It's not that the notion of outsourcing is a foreign concept to small-business owners. A vast majority has been using hosting services for their Web sites for years. However, "it's growing more than ever because a lot of people are downsizing what IT staff they have," noted Rodney Jones, principal of RJS Solutions, a provider of hosting and outsourced IT solutions.
As far as checking out a supplier for hosting and/or managing your Web services, the rules are pretty simple. Ask the right questions and you'll be sure to make the right choice.
Jones offered his take on the criteria business owners should consider when looking for the host with the most for your Web site needs:
Network bandwidth and availability are key considerations. "You don't want people coming to your site and having to wait for a response. The performance and [high] availability has to be there."
Look for a reliable, reputable and stable server/service provider. Ensure that they have secure backup processes in place.
Check out their value added services for current or future reference (e.g. consulting, search engine marketing, analytics, online marketing tools, content distribution, etc.).
Understand your needs before you commit. "Yes, you can get a host that only charges US$3.99 a month, but your site may be hosted on the same server as 10,000 other sites," Jones explained. "If you're not using your site to generate a ton of business that might be OK. But if you have any sort of multimedia-heavy site or are conducting e-commerce, you probably need to look at a more stable environment where the costs can run from $98 and up."
Talk to those in the know. Ask your IT person or colleague where they host their stuff, and if they're happy with the service.
Check out what type of service and support coverage they offer (online, email or on-site) and average response times. Many lower-end services may leave you waiting longer than you can afford when you need tech support. Also, confirm how scalable services are, and the incremental fees for upgrading.
Security is absolutely critical, especially when running an e-commerce site. Does your service provider have the tools to verify your checkout processes? Can they be trusted? If they also host your email (often offered hand in hand with Web hosting services) do they have enterprise-level spam filtering?
Serving Up Services
Hosting your infrastructure is only a part of the many outsourcing options for small businesses. While getting a hired gun for Web consulting and design used to be well beyond most small-business budgets, more recent outsourcing offerings like Elance, Guru.com and oDesk are making the job much simpler and more affordable, Warren Smith, director of product management for Network Solutions, told TechNewsWorld.
"These services are specifically tailored to make outsourcing simple and affordable for small businesses," Smith said. "Basically all you need to do is figure out what you need, how much you want to spend and maybe come up with a couple of sites you like as examples."
Business owners can then put the job out for bids, and interview potential suppliers before hiring them. Many of these outsourcing resources focus mainly on site design and development, as well as content writing.
Since many of the people offering these services are freelancers, they don't necessarily want to commit to supporting a site long-term, Smith cautioned. "They can be extremely valuable in helping a small business establish or grow their presence on the Web. As far as long-term management is concerned, many businesses like to handle that in-house."
When talking to a service provider and to optimize your investment dollars, Smith advised that the number one rule is to be crystal clear on what you need in order to speed the process and reduce overall costs.
Some factors to consider in briefing your supplier is whether your business needs to include an e-commerce component, integration of industry-specific applications (e.g. inventory management or reservation systems), general information (brochureware), a pay-per-click campaign, or mobile capabilities. "It's also important to ask if they are building the site from open source or scratch — the choice can mean a ten-fold price difference," said Smith.
Saying When
According to Schultz, it's important to understand when you can manage things on your own, and when it's time to look elsewhere. "Free services like Office Live will take people a pretty good way there. But when you want something more specific, you might need to outsource your design needs. That's where services like Elance come into play, because they don't cost you thousands of dollars, and you don't lose control of your site. You can spend as little as $200 on a quality designer and get a wonderful return on investment. It's more like getting a jump start on getting your site to where you want."
He noted that businesses typically need that extra boost in two areas. "One is when you need truly advanced design capabilities and are willing to spend a few extra dollars to express your business. The other is deeper level integration with applications, directories and other services. You need help to make it all work in a cohesive way."
Whatever the choice, a recession brings with it a plethora of experts who are happy to do some cost-effective outsourcing work on the side. When it comes to your Web site, a small investment in outside expertise could pay substantial dividends in the end.
How to Build a Small-Business Web Site, Part 1: Nuts and Bolts
How to Build a Small-Business Web Site, Part 2: Design Basics
How to Build a Small-Business Web Site, Part 3: Advanced Design
How to Build a Small-Business Web Site, Part 4: Web 2.0 Tools
How to Build a Small-Business Web Site, Part 6: Marketing for Success
How to Build a Small-Business Web Site, Part 7: Analyze to Optimize
How to Build a Small-Business Web Site, Part 8: Content Management Simplified
How to Build a Small-Business Web Site, Part 9: Security and Transaction Processing
How to Build a Small-Business Web Site, Part 10: Minding Your Privacy Ps and Qs
How to Build a Small-Business Web Site, Part 11: Roping In That Rascally ROI