Think iOS 8 is just an expanded version of iOS 7? Take a closer look, and you might think again. For owners of iPhone models from the 4s to the 6 Plus, Apple has introduced not only improvements to familiar features but some altogether new — and cool — functionality.
Best of all, it's all free.
There's something for everyone in this version. Even if you're not quite ready to trade up to the iPhone 6, iOS 8 will make it seem like you have a new phone again.
Here's your guide to the most useful and welcome iOS 8 changes to Safari, Spotlight, Notifications, Siri, Find My iPhone and more.
Better Safari
Most mobile smartphone users have run into a so-called "mobile" version of a Web page that lacked links, functionality, or just plain sucked. In iOS 8, Apple makes it easy to request the desktop version of the website.
All you have to do is tap the URL at the top of the page, then swipe down (in the middle of your screen works well) to reveal an Add to Favorites option and the Request Desktop Site option. Practice this trick a few times — it's worth locking it into your memory.

With a new tap-and-swipe sequence, you can tell Safari to load the full desktop version of a website.
If you seem to spawn new tabs left and right in Safari and you like to close them, you've probably closed a tab you wanted to keep or refer back to. In iOS 8, all you have to do is hold the "+" button at the bottom of your screen to show you a list of Recently Closed Tabs. It's wicked handy — but it doesn't help you if your Web pages were visited in Private mode, because they won't show up here, either.
Speaking of Private mode, tapping the Private option in Safari now launches a separate Private browsing window instead, letting your other tabs remain as they were. If you value the Private mode, this is quite handy.
Most people should practice this a bit, though, to make sure they recognize that the darker gray background of the URL field indicates an active private mode while the lighter gray does not. (Related: If you don't want any tracking of your searches, you can set DuckDuckGo as your default search engine under Safari's settings.)
To make mobile commerce easier than ever, Apple has added a smart feature that lets you take a photo of your credit card so you don't have to enter in a bunch of digits. Here's how it works: Once you tap a credit card number entry field, Safari recognizes the field and gives you a new option above the numbered keypad, "Scan Credit Card."
Tap it to reveal a credit card-shaped frame through a live camera view. The mode then inserts the number, expiration date, and cardholder name. The ZIP code and security code still require manual entry, however.
Brighter Spotlight
Spotlight Search is much more inclusive and powerful in iOS 8. Instead of just searching the contents of your iPhone, Spotlight now branches out into the Web to deliver more information, including search results from Wikipedia, local movie listings, Mail, Reminders, Voice Memos, and lots more. To activate it, just swipe down from pretty much anywhere on your home screen. Be careful not to swipe from the uppermost edge of the screen because that will bring down the Notification Center. On an iPhone 6, the new Spotlight is crazy fast and responsive.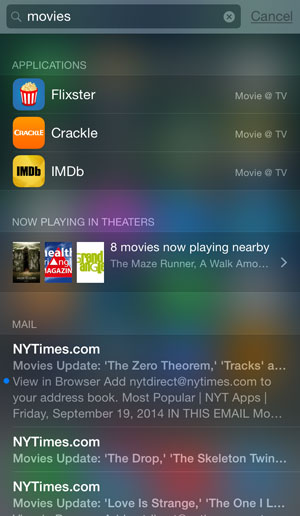 If you don't use Spotlight Search, check it out and start using it — it's fast and now searches far more than just your iPhone contents.
Spotlight Search lets you pick and choose the items it can search, as well as reorder the search results.
Because Spotlight now returns so much information, you might want to take a peek at the Spotlight settings (under General settings). It shows a full list of items that you can check or uncheck to exclude. You also can reorder the list, so the items you tend to care about most show up at the top of Spotlight Search results.
Notification Center
Notification Center has picked up some tweaks and additions, most notably the inclusion of notification widgets available from some apps. If you have an app that will offer up cool bits of information right in your Notification Center, you can activate the option under your Today tab by hitting the Edit option.
If you don't see any apps with little green circles with + marks inside, you don't have any apps installed that will deliver widget info to this location. Expect to see more developers adding this feature now that iOS 8 is out in the wild.
Oh, and that new edit button, by the way, also lets you change the order of Apple's default list of notifications — or remove them altogether. Nice.
A Plugged-In Siri Always Listens
If you have your iPhone plugged in and it's actively charging, you can say "Hey, Siri" to wake your iPhone and enable Siri (without pressing and holding the Home button).
When might this be useful? In the car, at your desk, or in bed. To activate it, you'll need to go to the Siri settings under the General settings.
Oh, one more thing: This could be a feature or a hindrance. Siri recognizes anyone's voice while in this mode, not just yours.
Find My iPhone Gets Longer 'Last Gasp'
One of coolest features you likely won't ever have to use is the option to tell your iPhone to send its location to iCloud right before it runs out of battery power.
This "last gasp" position used to be available to you from your iCloud account for 24 hours, but by toggling the Send Last Location switch to on, it presumably will tell Apple to store the location data for a longer period of time.
To access this feature in iOS 8, open the Settings application, choose iCloud, then Find My iPhone, then turn on Send Last Location.
Miscellaneous Bits and Pieces
There are lots of other little tweaks and features in iOS 8, of course, some of which might be a big deal — or an utter snooze — to you. For instance, the built-in Weather app now gets its data from the Weather Channel — and not Yahoo! Better yet, you now get 24 hours of forecast as well as a nine-day forecast.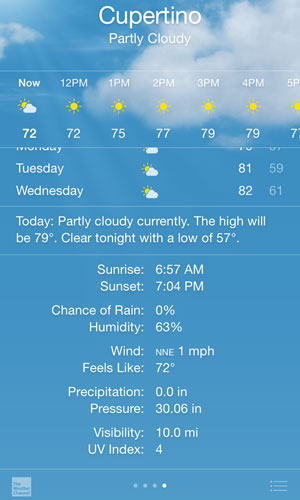 The Weather app now shares more data, now pulled from the Weather Channel.
The Notes app now lets you make text bold, italicized or underlined, and you can place photos into notes, too.
The new Health app has a lot of new features, but even if you don't plan on using it, you might want to fill out the Medical ID information card — if you have prescriptions or conditions that could prove useful to an emergency medical technician.
You can set the Medical ID information to be available from the lock screen of your iPhone so an EMT wouldn't have to use your thumb or passcode to get to it.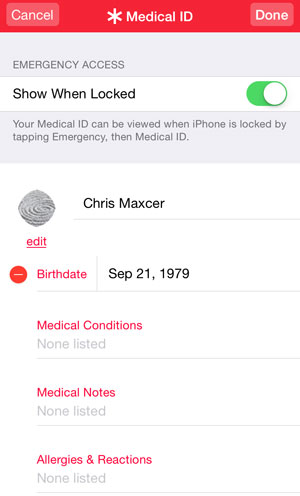 The new Health app is extensive, and even if you don't use it, you might consider creating a Medical ID if you have important health conditions that might be valuable to emergency medical technicians.
A new Battery Usage feature gives you a closer look at what percentage of battery life each app has been using. If you notice an app that seems to be using a lot of energy, there may be a setting you can choose to slow down its juice-guzzling tendencies — or you may want to use it less often. To access this feature in iOS 8, open the Settings application, choose General, then Usage, then Battery Usage.
Apple's new iCloud Drive finally brings the ability to store any kind of file, accessible on all of your devices. When Mac OS X Yosemite ships this fall — probably October — Apple's Continuity vision for moving documents around your devices via Handoff will be useful. You'll also be able to answer iPhone calls from your Mac or launch an instant iPhone data-based WiFi hotspot.
One new feature you might start noticing is a pop-up that alerts you when an app has been using your location in the background. The pop-up will ask you if you want to continue allowing this or take you to Settings to change the app's permissions.
You can choose to never allow location access, which could hurt the functionality of the app, or you can choose what makes sense to most consumers, to let the app track location "While Using the App." It's definitely a welcome feature — both the alert and the easy settings.