HP last week introduced several new additions to its Omen by HP gaming hardware line: 15.6-inch and 17.3-inch laptops, a desktop PC and a 32-inch Quad HD4 display.
The laptops will be available next month at HP's website and at Best Buy stores, with a starting price of US$900; the desktop and display will be available in August at HP online and at select retailers, with pricing as yet undisclosed.
The notebooks "address the gamer who wants … a gaming machine without breaking the bank," said Mike Nash, VP of portfolio strategy and customer experience at HP.
Gaming hardware sales fell more than $41 million year over year in April, according to NPD, which raises the question of whether HP's Omen line can make any headway in the market.
"When we look at the PC gaming market, we are extremely excited about the possibilities," Nash told TechNewsWorld. "Things like DirectX 12 and new graphics cards, which we believe will spur the gaming hardware market forward, are in the process of being launched by our partners."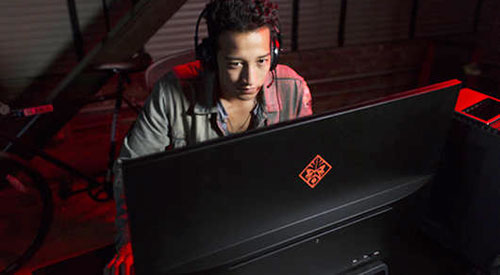 HP Omen 32-Inch Quad HD display
What the Omen Line Offers
The laptops have two fans, a flat 62W battery positioned towards the front, Nvidia GTX graphics cards up to 965M, and up to 6th Generation Intel Core i7 quad-core processors.
They come with Wide Vision HD cameras. Intel RealSense Cameras, which offer 3D experiences and enable gesture control, are an option.
The laptops have up to 16 GB of memory and a PCI3 SSD of up to 512 GB and up to 2 TB of storage for single storage options. Select models that offer a dual storage option come with a 128-GB SSHD and up to 4 TB of storage.
Select models offer HP Fast Charge and up to 10 hours of battery life.
"We are addressing the performance segment who just want great specs to play games, so we invested in the graphics, power and performance for notebooks appealing to the segment," Nash said.
The desktop is certified for virtual reality.
"We have heard from our customers how excited they are about VR," Nash noted. "Many have plans to purchase a head-mounted display, and they want to make sure a purchase is ready for VR."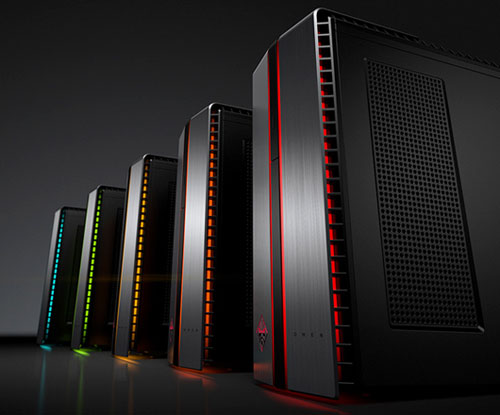 HP Omen Desktop
Desktop options include Nvidia GeForce GTX 1080 Founder Edition or AMD Radeon R9 390X graphics cards; an Intel Core i7 processor, with overclocking capabilities in select models; up to 32 GB of memory; up to 512 GB SSD; up to 3 TB of HDD; and optional liquid cooling.
The desktop offers tool-less access.
The Quad HD4 32-inch display offers 100 percent sRGB11 color and uses AMD FreeSync technology.
Will the Omen Line Cut the Mustard?
HP first introduced the Omen gaming notebook in 2014, and the latest devices are an expansion of the line.
"HP has picked a challenging market," said Christine Arrington, an analyst at IHS.
Console hardware sales are down 20 percent year over year for Q1, based on IHS data.
However, the Omen line "is positioned to do respectably with gamers," Arrington told TechNewsWorld. "Given the interest VR has generated in more complex and immersive experiences, the bet by PC companies on this segment does have the potential to pay off."
HP "is trying to hit the sweet spot between console gamers who want a simple instant experience with high-quality gaming easily and quickly accessible, and the enthusiast PC gamer who wants to build their own gaming rig," Arrington said. "This is the gamer who wants to use VR but doesn't have the budget, time or interest in building their own specialized gaming PC."
The Omen line seems to be competing on price point, design and customizability, "which are all important points to that consumer in between the console and enthusiast PC gamer," she noted.
Further, the gaming machines can also serve as everyday work machines, HP's Nash pointed out.
"Our customers … don't have a notebook for every day and then a separate gaming notebook," he said. "We are most pleased about being able to provide our customers good value on performance per dollar, as well as offering designs that are a bit more mature than your typical gaming fare."