At a time when consumers are flocking to tablets and laptops, HP has decided to push strongly into the all-in-one (AIO) PC market. The company on Monday announced four new consumer AIO PCs: the Envy 20 and Envy 23, the SpectreONE and the HP Pavilion 20.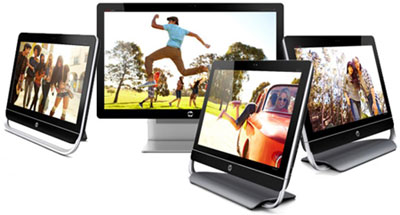 HP's new line of all-in-one desktops: the Envy 23, Envy 20 TouchSmart, SpectreOne and Pavilion 20
All four are designed to work with Windows 8, and are positioned as entertainment devices.
Who Wants a Desktop?
That positioning as an entertainment device "offers HP and desktop vendors a strategy of protecting their price points," Eric Ogren, principal at The Ogren Group, told TechNewsWorld. "Why else would someone cough up US$800 on a desktop PC when you can run Microsoft Office and a browser for hundreds less?"
Another possible target is people who like to carry the smallest laptops or tablets, Robert Enderle, principal analyst at the Enderle Group, told TechNewsWorld. "This allows them to have a ready box with a bigger screen and more power without having to carry something larger and heavier," he explained.
"Consumers continue to demand modern PCs with a smaller footprint," HP spokesperson Ann Finnie told TechNewsWorld. "All-in-ones deliver this plus the power and multimedia features expected from a two-piece computing solution."
HP "is well positioned to support this growth" by offering a variety of screen sizes and premium features, Finnie said, pointing out that analyst firm IDC projects AIO form factors to account for 27 percent of desktop sales by 2015.
Specs for the AIOs
The Envy 23 and Envy 20 offer 10-point multitouch screens. They are built around the latest Intel processors, and have up to 3 TB of storage.
The Envy 20 also offers HP Connected Remote, which turns a tablet or smartphone into a remote control.
However, "tablets are killing desktop PCs in the home because they are so much more handy," Ogren said. "My wife and I watch TV with iPads at our fingertips for random shopping, email and score checks."
The SpectreONE has a 23.6-inch flush-glass full HD display and is 11.5 mm thick. It comes with a wireless trackpad and is also equipped with a multitouch screen.
The SpectreONE includes HP's TouchZone near field communication technology — the technology that's behind mobile wallets. It comes with two USB 2.0 ports, two USB 3.0 ports, HDMI-in and a Beats Audio headphone hack. NFC lets users tap a smartphone or NFC tags on the PC's base to log in or transfer data to the computer.
These three AIO PCs also come with Beats Audio, the HP TrueVision HD webcam, HP Connected Photo, HP Connected Backup, and HP Connected Music.
HP Connected Photo syncs photos from a smartphone to the PC and stores them in their native resolution. HP Connected Music aggregates music downloads, streaming services and Internet radio in one location. HP Connected Backup is an automatic online backup service.
The SpectreONE also comes with full versions of Adobe Photoshop Elements 10 and Adobe Premiere Elements 10. It's bundled with a two-year subscription to Norton Internet Security and 90 days of complimentary support.
The Pavilion 20 is an inexpensive AIO with the HP TrueVision HD webcam, HP Connected Photo and HP Connected Music.
The Envy 23, Envy 20 and Pavilion 20 will be available in the United States in October. They'll be priced at $999, $799, and $449 respectively.
The SpectreONE will be available in the US in November, at $1,299 and up.
The Long Arm of Win 8
"Products at the high end are now using some of the new features [of Windows 8] such as NFC to differentiate themselves from lower-cost alternatives," Enderle said. "Microsoft is attempting to take back hardware leadership from Apple again."
"The [Windows 8] OS is trying to bridge user interaction between platforms — the PC, the tablet, the phone and the cloud," Ogren remarked.