The HP Officejet Pro X551dw doesn't scan, doesn't copy, doesn't fax, and obviously doesn't make coffee. It is, however, among the best single-use printers you could get in a small-to-medium-sized office environment. It is fast, it operates at a low cost, and although it doesn't do those aforementioned things, it does much more.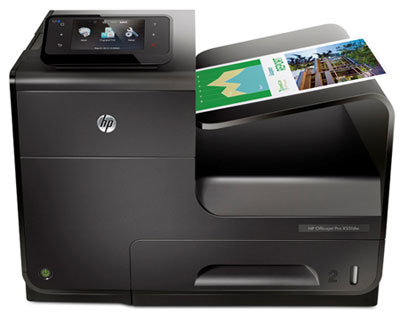 Officejet Pro X551dw Printer
First things first: If you need a printer that can scan, fax, and copy, HP offers the HP Officejet Pro X576dw Multifunction Printer for an MSRP of US$799, about $200 more than the X551dw. It still can't make coffee.
Thus, the single-function X551dw printer is for those who have the other bases covered and just want a printer that prints. This inkjet printer looks like a laser printer and honestly prints a lot like a laser printer. At $599, it is priced a whole lot better than most lasers, albeit with a few distractions.
Setting It Up
Other than taking it out of the box and removing some tape holding various panels shut and doors in place, users will need to plug in four ink cartridges, run a network setup, and install the drivers. Then, the printing can begin.
The X551dw is big and beefy — again, it does look like a laser printer. Those who want to tuck it into a nook in the corner of a bedroom office might want to keep looking, as this will take at least the top of a typical filing cabinet sitting on it sideways. It measures 15×20.3×15.7 (HWD) and weighs in at almost 40 pounds. So this isn't the printer you can pull out and put on the dining room table for those days when you work from home.
It's better for SMB offices than for the typical small office/home office (SOHO). That said, if you work from home and print a lot — and don't need excuses to check the mail or do laundry — this speed demon might be for you.
Because it's Wi-Fi-friendly and sets up in a snap, once the printer is in place, it doesn't need to move. As long as it can connect to the network wirelessly, you don't even need to be in the same room. For TechNewsWorld's tests, the printer set up in a snap, and there were virtually no issues connecting when it was needed. It can function as an 802.11 b/g/n station and as an 802.11b/g access point.
For those who don't want to go wireless, the printer includes an Ethernet 10/100 Base-TX network.
Print Quality
Because this is an inkjet printer, it can tackle color and black and white with relative ease and print text as easily as it can handle photos.
While you'll get better quality from photo-specific paper, I found the print quality, in a word, "decent" even on plain white cheap stuff. The text and graphics were quite clear, and I could handle printouts immediately with little fear of smearing.
With photo paper, the results were very good — on par with dedicated photo printers. For a business-specific printer, this is quite acceptable. This could be a good printer for tackling presentations as much as for printing boarding passes. This printer can handle legal-size paper as well.
When printing black and white, there were some drawbacks — but we've come to expect them with inkjets. Notably, the blacks are not exactly deep, deep black, but almost more of a dark charcoal gray. This should be expected, and it's acceptable for virtually all business purposes.
The X551dw manages to do all that it does at a rather reasonable price. HP claims the cost per page to be around 1.3 cents for mono and about 6.8 cents for color. HP claims it can print up to 9,200 pages per cartridge. At those costs, it might be easier to do more printing and less copying, which can translate into time saved.
Speed Machine
The X551dw is a speedy printer. It is actually certified by Guinness World Records as the world's fastest desktop printer, notes HP, printing 500 color sheets in 7 minutes and 18 seconds.
In tests printing photo-rich flyers, the printer could spit out about 10 sheets per minute, and it could print a higher-resolution photo in less than 30 seconds. It flies through text printing, spitting out up to 70 pages per minute.
It also saves money as it operates, using 50 percent less energy than color lasers, according to HP.
HP clearly knows printers, and it apparently listened to customers. The X551dw not only prints pages in order — so you can start looking at the results as they come out of the printer — but also delivers them face down so no collation is required. This is a minor point that HP gets right with the X551dw.
The printer features a 500-sheet drawer, along with a 50-sheet multipurpose tray and a duplexer for two-sided printing.
Command and Connection
The interface is quite intuitive with the X551dw. Instead of lots of buttons, everything is controlled using a 4.3-inch touchscreen panel. It even allows previewing of images and allows changes to settings can be easily managed. From this screen, users can also get real-time estimated ink levels for each cartridge.
While printing can be sent wirelessly from a networked computer, this inkjet can also print through the cloud, via Apple AirPrint or from HP's own mobile print app. It supports Wireless Direct, which is HP's version of Wi-Fi Direct, allowing connectivity with smartphones and tablets — even if they aren't on the network.
The x551dw also offers direct printing from a USB drive — but only certain formats are supported. In our tests, it handled JPEG and PDF files; however, we were unable to print PSD (Photoshop) files, even though we were able to print them directly from Photoshop. Photo languages include HP PCL5c, HP PCLXL (PCL6), native PDF, and HP Postscript Level 3.
When hooked up to a wireless network, the printer can also deliver some news and even some comics. It features built-in apps that can automatically print out content from Times Digest, 7-Day Menu, Daily Sudoku, NBC News, Crayola Daily, Sports Daily, and TV Listings, as well as comics. It can even print postage directly from a Stamps.com account.
Print Job Done
The bottom line is that not everyone needs this level of speed, but given its other functions and ease of operation, there is little bad to say about the X551dw.
While a bit of a behemoth, this printer is fast, affordable, and connects easily to a wireless network.