The amount of information consumed by Americans in 2008 totaled 3.6 zettabytes and 10,845 trillion words, according to a report released Dec. 9 by researchers at the University of California at San Diego (UCSD), "How Much Information? 2009 Report on American Consumers."
For an average person on an ordinary day, this represents 34 gigabytes of data and 100,500 words.
There's a Limit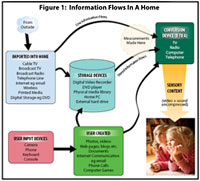 (click image to enlarge)
"I think the primary finding of this report tells us humans have a finite capacity to receive and process information," said lead researcher Roger Bohn, a professor of management and director of the Global Information Industry Center at UCSD.
"This study was designed to tell us not how much information is retained by the consumer, but rather how much gets to the eyeballs," Bohn told TechNewsWorld. "We can be subject to information overload, but this study itself doesn't prove that. It's merely a statement of reality."
A 1980 study estimated that Americans received slightly more than seven hours of information on an average day, according to Bohn.
Americans are now exposed to 11.8 hours of information each day, based on the new UCSD study, which calculated only the amount of information flowing into American households. It did not include the amount of information received in the workplace.
The Definition of 'Information'
"Information" means flows of data delivered to people, as defined in the UCSD research, which measures the data in bytes, words and hours of consumer information. One zettabyte is 1,000,000,000 trillion bytes; these units of information are used to define digital information storage capacities.
To determine the 1.3 trillion hours of information Americans consumed in 2008, researchers looked at 20 sources of activities unrelated to work, including movies, cellphones, television, the Internet, video games, newspapers, magazines, books and music.
"Television viewers, in particular, have been increasing relatively slowly, but video gaming has increased quite a bit," noted Bohn. "Video game usage was surprisingly high because the games are so large in terms of the amount of bytes used to create them. When you look at the flow of information people are consuming, 34 gigabytes is a tremendous volume of data."
Today's American Pastimes
Almost all Americans are exposed to television. It's hard to find anyone who isn't exposed to television on a daily basis, regardless of age, observed Bohn. That includes cable and satellite viewing, as well as watching movies on DVDs.
"Television, in all its forms, consumes the most hours of Americans' time, but only a medium number of bytes to which they're exposed," he continued. "This shows us that some lower-resolution methods are getting a lot of time … . [The report] definitely showed us that texting and tweeting are on the rise."
Between the ages of 15 and 50, there were only small differences of source information used within age groups, Bohn said, although there was a slight trend toward older adults watching more television, whereas younger Americans spent more time texting and tweeting.
"If you provide people with a more convenient method of messaging, it will have more appeal," he remarked.
Entertainment vs. Overload
Americans spent 16 percent of their information hours browsing the Internet, which is second only to television's 41 percent, according to the UCSD study. With the increase in use of email, instant messaging and social networking sites, the Internet now dominates two-way communications, accounting for more than 79 percent of those bytes every day.
Despite the rapid growth of new media, such as YouTube videos, games on smartphones or text messages, their onsumption is still outpaced by traditional media.
Traditional media is still predominant when it comes to Americans turning to sources of information or entertainment, James Short, research director for the Global Information Industriy Center at UCSD, told TechNewsWorld.
"Traditional media is defined as 'television, radio and music.' The flow of data is very, very large, and it's a tremendous amount of information," Short said.
"We've found the … performance of machines used to acquire information, such as computers and cellphones, is changing rapidly," Short said. "The price of gaming equipment has fallen rapidly, and casual and high performance users are on the rise. Compared to what was available in earlier studies, there are some very high-performance gaming machines available now, and there's been an increase in the number of people using them due to the cost reduction."
This is only the first in a series of studies UCSD plans to conduct.
"This was a report regarding the total flow of information," said Short. "Some of our future studies will concentrate on the overall rates of change in the next stage of devices, as well as give us age characteristics of those users."