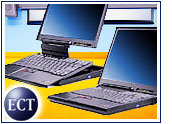 IBM announced Thursday that it will recall 553,000 ThinkPad AC power adapters after receiving reports that some units overheated, causing melted adapter housings and charred circuit boards.
The company also noted that the overheating could pose fire and electrical shock hazards.
The announcement was made in conjunction with the U.S. Consumer Product Safety Commission (CPSC), which cited six reports of incidents and some property damage, but no injuries.
Send It Back
The 56-watt adapters in question were shipped mostly with IBM ThinkPad i Series, ThinkPad 390, and 240 Series, as well as a limited number of ThinkPad s Series laptop computers.
Computers with the adapter were sold between January 1999 and August 2000, but because the adapters also were available as an accessory, it is possible that consumers might be using the product on other laptop models.
The adapters can be identified by the hollow three-pin male connector on the adapter brick that accepts the three-pin female AC cord, and the part number, 02K6549, located on the label on one side of the adapter brick.
The CPSC advised consumers to unplug the recalled adapters from the wall outlet immediately and contact IBM for a free replacement unit.
IBM has set up a special site, adapterprogram.com, so consumers can arrange for a replacement.
Delta Force
The IBM adapters were produced by Taiwan electronics components maker Delta Electronics. The company is expected to replace about 50,000 adapters out of the 553,000 recalled by IBM.
Delta spokesperson Jesse Chou predicted that only around 10 percent of the owners of the laptops will ask for a replacement because the laptops were sold several years ago.
Because of the recall news, shares in Delta dropped 3.2 percent, but Chou noted that the company did not expect to lose much more ground than that. The company expects that the cost of the recall for Delta will be less than US$1.5 million.
Calling the Recall
The power unit recall is not the first experienced by IBM. The company did a major recall in March 2003 when it had to call back 63,000 computer monitor made by Lite On and sold by IBM. The G-51 and G51T monitors experienced overheating, which created a fire hazard.
Later that year, the company had to expand its recall to monitors that were manufactured through September 1998. Recalls in general are not exactly rare in the technology industry. In August, Apple was told about four complaints sent to the CPSC regarding overheating batteries in certain 15-inch PowerBook G4 models.
Dell had an adapter recall just before Apple's announcement. The company warned consumers that about 38,000 power adapters that were shipped between December 2003 and May 2004 could cause electric shocks.
At times, design is a culprit as well. In June, Hewlett Packard had to replace memory in over a dozen series of its notebook PCs, which affected almost a million users. The company claimed the memory failure was the result of an industry-wide design flaw.
No Rest for the Overheated
As technology advances, it is likely that other such recalls will crop up. A major reason, said META Group analyst Rob Schafer, is the overheating issue.
"Technology continues to get more dense and compact, which is great, because it means portability and flexibility," he told TechNewsWorld. But, he added, shrinking technology causes processing power to get squeezed into a small space, and that causes overheating danger.
"Technology developers are facing some significant issues surrounding design, and it'll continue to be a challenge for at least the next decade," Schafer noted.
Despite the rash of recalls this last summer, there does seem to be much fear in the industry that consumer confidence in technology will waver. Gary Shapiro, president and CEO of the Consumer Electronics Association, told TechNewsWorld that demand for technology has never been stronger. Recalls of small items like adapters are not likely to reverse that.
"We're seeing a great deal of excitement about technology," said Shapiro. "In my opinion, that's due to just get stronger."