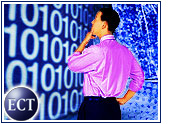 Microsoft unveiled plans Tuesday to release stripped-down versions of its Visual Studio developer's tools and SQL Server database in an attempt to appeal to nonprofessional programmers.
The inexpensive, lightweight "Express" versions are intended for people who write programs but do not work as software developers. This audience, which has been estimated to outnumber professional developers by about three to one, consists of students, hobbyists and others who write small, simple Web site applications.
Microsoft has noted that it will create Express versions of several developer packages: SQL Server 2005, Visual Studio 2005, Visual Web Developer 2005, C# 2005, C++ 2005 and Visual J# 2005.
Announced at Microsoft's TechEd Europe conference, the tools can be used together or separately, according to the company.
"If you look at the market today, there's an emerging body of people who are basically the next generation of developers," said Shawn Nandi, Microsoft product manager on the Web platform and tools team, in an interview with TechNewsWorld. "It's important for those people to have the right tools."
Rising Competition
Yankee Group analyst Laura DiDio told TechNewsWorld that this strategic move is indicative of a changing developer landscape. "Microsoft is just bowing to the reality of the times and of the market," she said.
She noted that the economic downturn of the last three years has shaken the industry into changing its buying patterns. As a result, purchasing has changed from a two- or three-year upgrade cycle into one involving a much longer time frame.
"Many offices have Windows 95," she said. "People are trying to hold out as long as possible."
This creates a culture in which the nonprofessional programmer can thrive, making minor programming tweaks to fine tune Web sites for their smaller companies or personal use.
"Four years ago, when everyone was fat and happy, you heard people talking about how they were targeting the enterprise," said DiDio. "Now everyone from Microsoft on down is focusing on small businesses because it's another revenue stream. There's a real pragmatism at work here."
Microsoft was "dragged kicking and screaming into opening up their code," she added. "And now they're starting to realize that it makes sense."
Watching the Penguin
At the same time, DiDio said, the hobbyists have no brand loyalty. What Microsoft is trying to do is win their attention from competing tools like Linux.
"If you're going to get customers locked into you, you have to win the hearts and minds of developers," she noted. "That means all kinds of developers, not just professionals. Whoever gets a committed developer following will win. Microsoft has recognized this, and so has Apple."
Nandi noted that many of the developers being targeted by the Express tools are people who just want to put up a Web site but do not have the skills to do so.
In drawing these low-tech developers, Microsoft is going head-to-head with Linux, DiDio noted.
Partnering Up
Microsoft also has announced that it has inked partnerships with Amazon, eBay and PayPal to provide specialized "starter kits" for the Express products.
The goal of the partnerships and starter kits is to make it simpler for nonprofessional programmers to customize their Web sites to work more easily with the major e-commerce providers. DiDio noted that this is a smart strategy, given the broad reach of the three major companies.
Microsoft also indicated that it has partnered with several book publishers to offer content and other resources for nonprofessional developers.
Other strong partnerships are happening throughout the tech sector, and DiDio mentioned the recent partnership of Novell and Red Hat with RealNetworks.
"Like many other companies, Microsoft has been reaching out for a lot of partnerships," she said. "No one wants to be alone right now."