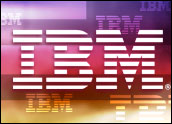 IBM on Monday launched a one-two punch with its new Power7 processors, which the company claims have twice the performance of the Power6 line but consume less power.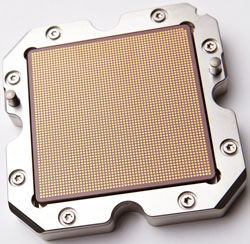 A Power7 ceramic module with a lid is shown here bottom side facing up. Each Power7 processor contains eight cores, with four threads per core.
(click image to enlarge)
These processors power IBM's Unix servers, four new models of which were also unveiled Monday in a move that might strengthen IBM's position in the Unix server market.
The Power7's Tech Specs
The Power7 uses a 45 nanometer process. Each Power7 processor has up to eight cores and four threads per core. That's four times the maximum number of cores and eight times the number of threads per chip as the Power6.
The Power7 has a TurboCore mode, which is optimized for database and other transaction-oriented workloads. This runs with four cores active and with most of the resources from the other four cores behind the eight active cores. Doing this gives the four active cores more cache memory and memory bandwidth and increases their clock speeds.
Power7 technology has "intelligent threads," meaning the number of threads varies depending on the workload. More threads increase total capacity, and fewer threads increase individual processing tasks, such as real-time analytics and database transactions.
Active Memory Expansion, a new Power7 technology, dynamically adjusts the amount of compressed memory required based on a workload's needs. This expands the memory capacity of Power7 systems without requiring the installation of more physical memory. A server using Active Memory Expansion can handle up to 65 percent more transactions or users than servers without this feature, according the IBM's estimates.
Intelligent Energy technology in the Power7s lets customers power on and off various parts of the system, or dynamically increase or decrease processor clock speeds based on thermal conditions and system utilization. They can do this on a single server or across a pool of multiple servers.
More Bang for the Buck
IBM probably managed to increase the Power7's processing capability while reducing its power requirements by shrinking the die, Carl Howe, director of anywhere research at the Yankee Group, told TechNewsWorld. "That will reduce your power consumption and put more cores on the die," he explained. "It's simple geometry."
The latest processors have a high degree of power management through very refined clock gating, Jim McGregor, chief technology strategist at In-Stat, told TechNewsWorld. This lets the processor shut down the parts that are not required in a transaction or a process, he explained.
In addition to offering more performance, Power7 could change the market, Charles King, principal analyst at Pund-IT, contended. "With Power7, IBM is shifting the focus from mere processor evolution to systems-wide innovation," he told TechNewsWorld. "As vendors of every sort have moved towards multi-core, multi-threaded solution development, the value of the microprocessor has increasingly become just one part of overall system quality."
Battles in the Unix Market
IBM on Monday launched four servers based on the Power7 processor. The Power 770 and 780 are based on modular designs and will accommodate up to 64 Power7 cores; the other two are the Power 750 Express and the Power 755.
These are positioned against Intel's Itanium processor, which powers Unix servers from HP.
The processors will power servers in the Unix market, which Pund-IT's King said racks up US$16 billion in sales annually. IBM's and Intel's new processors unveiled Monday indicate the battle for control of the Unix and Linux markets is still raging.
"IBM moved from third place to first place in the Unix server market, with about 40 percent of the sector's sales, by delivering better systems performance, increased energy efficiency and a forward-thinking road map," King explained.
What about Sun's Sparc, which Oracle pledged to support at the Jan. 27 briefing on Oracle's roadmap with Sun? "The No. 1 product beneath our installed database is Sun," Oracle copresident Charles Phillips said at the briefing. He pledged to make Sun the gold standard for computing for servers running Oracle's products.
Power7 systems may pull well ahead of those powered by the Sun Sparc and Intel Itanium, King contended. "Both HP's Itanium-based servers and Sun's UltraSparc servers have been stuck in the doldrums, and there's nothing on the horizon which indicates that either company will provide anything close to the performance of the Power7," he said. "While Intel's launch of Tukwila Monday seems to be designed to keep IBM from hogging the spotlight completely, there appears to be more meat in the Power7 announcement."
Locking Horns With Intel
Meanwhile, after many delays, Intel announced its Itanium 9300 series processor, previously code-named "Tukwila," in San Francisco Monday. This has 2 billion transistors, four cores, and eight threads per processor through enhanced Intel Hyper-Threading Technology. The Tukwila offers up to eight times the interconnect bandwidth, five times the memory bandwidth; and up to seven times the memory capacity of its predecessor using DDR3 components, Intel said.
Yet another chipmaker, AMD, has promised to unveil its own multicore processor, the 12-core Opteron "Magny-Cours," in the first quarter of this year.