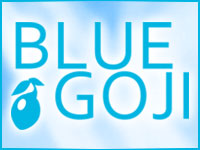 The creators of the Guitar Hero video game franchise are looking to put down the plastic guitars and get pumped up instead. Specifically, RedOctane founders Kai and Charles Huang are teaming up with OpenLink founder Coleman Fung to launch Blue Goji, a new interactive fitness company, they announced on Monday.
Instead of creating games that allow players to live out their rock-and-roll fantasies in the living room, the new company's mission is to transform the gameplay experience into something that can burn calories and help players get fit. Toward that end, the company aims to transform cardio exercise into immersing gameplay that can also track activity and help users reach their personal fitness goals.
"Our goal is to help people lead healthier and more active lives by providing anyone across all fitness levels with a fun way to work out, one that is accessible and compelling to use," said Kai Huang, BlueGoji cofounder and CEO. "With Blue Goji, we're developing a platform to support a variety of entertainment content that enables people to immerse themselves in their workout routinesfor a more enjoyable and social experience."
'Getting Interactive'
While Blue Goji has yet to officially announce any titles, the founders hinted that its platform will combine "innovative software and hardware" and use the portability and power of tablets and smartphones.
Moreover, the company's vision promises to tap the integration of those mobile devices with current cardio exercise equipment, including treadmills and stationary bicycles.
Currently undergoing private user testing, Blue Goji will reveal additional information about the platform in the coming months, it said. In the meantime, it's currently accepting applications on its website from developers to create or adapt their mobile games for its library.
This type of convergence is already coming in the fitness space from the likes of companies such as Kurt Kinetic, which produces a stationary bicycle that can be paired with a laptop or tablet device. This time, however, the exercise push is coming from the video game industry itself.
"These products don't live in a vacuum anymore," technology analyst Susan Schreiner of C4 Trends told TechNewsWorld. "We're now into a phase where the fitness genre is getting interactive."
'The Bubble Popped Big'
History has already seen swords turned into plowshares, of course, but it could be a bigger change to see plastic instruments giving way to exercise equipment.
"The bubble popped big with the music genre," independent video game analyst Billy Pidgeontold TechNewsWorld. "We've seen developers in the game space make these big changes, so this isn't really that surprising."
Indeed, "they had to do something different — the business model for Guitar Hero was somewhat counterintuitive, as it flipped the software model," Pidgeon added. "With those games it inflated the software sales, as you had to buy the game to get the instruments, and that increased the price, but the follow-up games stopped selling."
'It Has to Be Software-Based'
There have been fitness and exercise-based games for years, but few have made use of actual cardio equipment.
"It has to be a software-based application to work, at least to make a profit," Pidgeon suggested. "The games have so far relied on a mix of self-reporting and personal data with a simple sensor, such as apedometer."
However, "that hardware can't be what drives the profit with these games," he stressed. "That has to be given away to some degree, or history will repeat itself and we'll see a bubble burst again."
"A Shift to Prevention'
The timing could be very good. Fitness equipment continues to fall in price while technologies including ANT+ and Bluetooth allow for greater connectivity.
"We've seen a lot of development in mobile health, and we are in a transition period in relationship to fitness and wellness," Schreiner explained. "There is a shift to prevention with the newhealthcare reforms."
Meanwhile, "the cost of technology has come down significantly," she added. "The big challenge that fitness apps and programs have is that once the novelty has worn off, it just sits there. What is going to make this fresh and dynamic on an ongoing basis?
"People need incentives and motivation," she concluded. "Perhaps Blue Goji has something in mind."
Blue Goji declined to provide further details.