Instagram, Facebook's popular free mobile app for editing and sharing photos, has never had a reputation for subtlety. It's image-editing tools and filters have had more in common with a palette knife than a fine sable paint brush. That's changed, though, with the latest version of the app.Version 6.0 of Instagram, which has an estimated 200 million users, was released last week for both the Android and Apple mobile platforms. Unlike previous editions of the app, this one appears to be targeting a more creative audience.
Filters are still an important part of the program. They're a way to alter the atmosphere of an image after it has been captured. For example, a color photo can be changed to black and white.
The new Instagram, which has 20 filters, has two for transforming color images to black and white: Willow and Inkwell. Willow creates a more even-toned black and white snap than Inkwell, which provides more contrast between the blacks and whites.
Clever Touch
What's nice about this version of Instagram is that it allows you to customize a filter's effect on a photo. Tap a thumbnail of a filter and it's applied to a photo at a strength of 100 percent. Tap it again, and a slider appears below the thumbnail that lets you reduce the filter's effect on the photo.
For the black-and-white filters, for instance, as you move the slider to the left, you allow more and more color to enter the image. That gives you greater creative control over the final image and more opportunity to experiment with the atmospherics in a shot.
That kind of creativity often requires a lot of comparison work. You make a change, then you want to see how it compares to the original photo. With desktop image- editing programs, that's usually done by displaying side-by-side windows — one with the original photo, the other with it altered by a process or filter.
The new Instagram has a clever way to make those comparisons. When you touch an image you're editing, its original will appear on the screen. Lift your finger and the filtered image reappears. The feature makes smart use of a touch interface and is fun to use.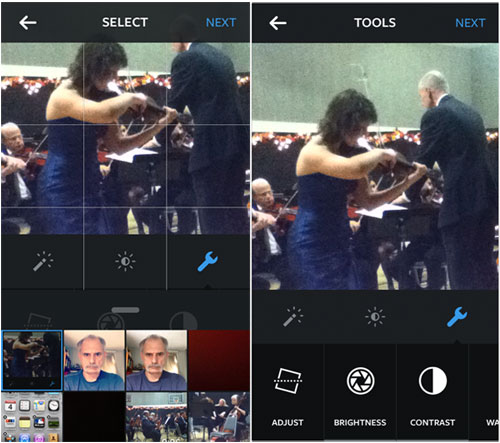 Tools Galore
While subtlety can be a good thing in photography, it also can be puzzling. There seems to be little to distinguish some Instagram filters from others. Normal, for example, is very close to Mayfair and Hudson, and Amaro is very similar to Rise.
Those filter names can be annoying, too. Most of the time they don't really give a hint of what a filter does, and oftentimes the thumbnails aren't much help either.
No image editor would be worthy of the name without a good set of tools for altering the characteristics of a photo. The new Instagram has an excellent set of such tools.
For example, there's a tool that combines adjusting the horizontal aspects of a photo with cropping it. Sometimes, an image contains a skewed horizon. With the adjust tool, a photo can be tilted left or right to level the horizon in it, or deliberately skew it — if an editor is into German expressionist filmmaking — all with a slider.
Cropping a shot is as simple as stretching or shrinking it with a thumb and trigger finger gesture, and moving it with a finger drag. Once again, this is a savvy use of touch in a mobile device.
Mature App
Brightness and contrast tools also are included in the new Instagram's toolbox, as well as controls for customizing color temperatures and color saturation in a shot.
Highlights, shadows and sharpness can be manipulated too, and vignetting (darkening the edges of a photo) and tilt shifting (focusing on a portion of an image and blurring its surroundings) are included in the toolbox.
As with filters, a tool's effects can be controlled with sliders and before/after comparisons toggled with a tap. Slider effects are very subtle — sometimes too subtle for my taste. The vignette tool, for instance, is barely noticeable at 100 percent, and the blurring created by the tilt-shifting tool also is weak at 100 percent.
After you've finished editing an image, you can add a caption to it, tag people from your social network, add it to photo map (provided you give Instagram access to your geolocation information) and ship it to a Facebook, Twitter, Tumblr or Flickr account.
If you don't want to share the photo with a network, you can share it with individual Instagram members.
With this version, Instagram, which was founded in 2010 and bought by Facebook for US$1 billion in 2012, has begun to show maturity as a photo-imaging app. It's not just for click kiddies any more. It's making a legitimate attempt to appeal to more creative shutterbugs who want to preserve moments, rather than treat them as ephemera.