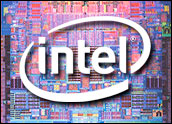 Intel this week laid out its lineup of new products, which take dead aim at some of the latest hot buttons in computing.
One is the Dunnington CPU (central processing unit), with six cores, which will be introduced in the second half of this year, and will support FlexMigration, a technology that allows live virtual machine migration across server platforms.
Then there is the Nehalem chip, which Intel says is dynamically scalable from two to eight cores, offering multi-threading and delivering four times the memory bandwidth of today's highest-performance Intel Xeon processor-based system.
Intel also announced a focus on visual computing, with a strong focus on high-definition graphics, and the Larrabee architecture for visual computing.
Other products announced were Tukwila, Intel's next-generation Itanium processor, the world's first 2-billion transistor microprocessor, and the Tylersburg motherboard chipset.
The Dunnington
Socket-compatible with Intel's Caneland platform, the Dunnington's server migration capability provides investment protection and lets users choose the optimal server platform for performance, cost, power and reliability.
It is the last CPU of the Penryn generation, and Intel's first multi-core die. Intended for blades and other stacked computer systems, the Dunnington will have a maximum power consumption of less than 130 watts.
The Dunnington is the Aliceton reborn; the original Dunnington was based on the now-canceled Whitefield.
With 16 MB of level three (L3) cache and almost 2 billion transistors, the Dunnington "will probably be a pretty good product because it will be a drop-in replacement for the Tigerton chip which is on the Caneland platform," analyst Patrick Wang at Wedbush Morgan Securities told TechNewsWorld. "So you'll go from a quad-core multichip packet to a monolithic six-core chip by the end of this year."
The Other Products
With an architecture featuring an integrated DDR3 (double data rate three) memory controller, the Nehalem will run QuickPath Interconnect, and have up to 8 MB of L3 cache. It will scale from notebooks to desktops to servers; in the desktop versions, it will run on Tylersburg, which will have a three-channel memory interface using a point to point link similar to HyperTransport.
Tylersburg can be configured for both one-socket high-end desktop (HEDT) and two-socket (high-performance computing and dual processing server) operations.
Tukwila, Intel's next-generation Itanium processor, has four cores, 30 MB of total cache, QuickPath Interconnect, a dual Integrated Memory Controller and mainframe-class RAS (remote access service) features. It will deliver more than twice the performance of the current-generation Itanium processor.
Intel vs. AMD
Observers have noted that the Nehalem's L3 integrated memory cache is similar to AMD's Barcelona chip design.
That, Wang said, is a good thing. "Nehalem puts Intel on the same ground as AMD."
Over the past five years or so, "Intel has had a faster core whereas AMD has had a significantly better architecture, which is why the AMD Opteron gained so much market share in 2006 — they had the integrated memory controller and HyperTransport," Wang explained. "Those were the two things Intel was weaker at."
HyperTransport is an industry standard interconnect technology designed to reduce the number of buses within the system that provides a high-performance, high-speed, high-bandwidth, point-to-point link that provides the lowest possible latency for chip-to-chip and board-to-board links.
AMD calls its implementation of HyperTransport "Coherent Hypertransport" and Intel calls its feature "Quickpath Interconnect."
"With Nehalem, Intel's going to an integrated memory controller, which bumps up the performance another notch," Gartner Fellow Martin Reynolds told TechNewsWorld. "That was one of the things that let AMD get the advantage over Intel in 2006."
The integrated DDR3 controller and the implementation of Quickpath "put Intel on the same ground as AMD in terms of architectural design," Wang said. "It's not a step back, it's correcting a flawed architectural decision made many years ago."
AMD's Take
"I would say that Nehalem looks a lot like Opteron 1.0," John Fruehe, AMD's manager of worldwide business development in server workstations, told TechNewsWorld. "Where we started design in '99 and brought out our products in the 2003 time frame, you saw the integrated memory controller, no more legacy frontside bus, and they're really coming around."
Intel's rethink is being "driven by a lot of things happening in the market — customers are interested in scalability and efficiency, not only efficiency of processing but also power efficient systems, and that's one area where AMD always has had the lead by not having a separate memory controller and a separate frontside bus," Fruehe said.
However, he said duplicating the Opteron chip's technology is not as easy as it looks.
"It's not something you do very quickly — Intel tried twice to do integrated memory controllers and both times they backed away," he added. "There's a lot of complexity in integrating the controller and frontside bus."
Compatibility is another area in which AMD has the advantage, according to Fruehe. "Historically, with each generation Intel have to go out and do completely new chips and new boards and there's a lot of incompatibility. With Opteron, we tried to minimize that so we have a lifecycle on our platform that's about three to four years, whereas with Intel it's typically about 12 to 18 months."
That saves a lot of time and money in data centers where "if you have 1,000 servers they all have the same drivers and BIOS" so an upgrade just means dropping in the new processor onto the board, Fruehe said.
Visual Computing and Larrabee
Intel will develop a complete path for visual computing, including a multi-core CPU, chipset and graphics as well as software and associated developer tools. The Larrabee architecture on which Intel will base visual computing will include a high-performance, wide SIMD (Single Instruction, Multiple Data Streams) vector processing unit and a new set of vector instructions, vector memory operations and conditional instructions as well as a new hardware-coherent cache design.
Intel is looking at two separate parts of the graphics market, Reynolds said.
"They probably own 60 percent of the low-end to mid-range graphics market today with low-cost devices and think that, by advancing graphics technology through going to faster transistors, they can take up to 80 percent of the market," he added. That extra 20 percent will be taken from AMD.
Larrabee, however, is about the high end, being a "new processor with some number of parallel cores running at high speed," Reynolds said. It's a "completely new architecture" and Reynolds believes Intel is gunning for the ray tracing market with Larrabee.
AMD is "very strong in high-performance compute clusters running visualization for use in the oil and gas industry, genome coding and other areas, Fruehe said.
And he warned that the Larrabee platform may have hidden costs: "Intel tends to downplay the word 'software' but it has all the impact in Larrabee — they're really talking about changing the software programming model. Hardware is relatively cheap; software isn't."