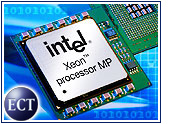 A new era of faster computing for consumers soon may be in the offing, as Intel has gone public with plans to produce a new line of 64-bit microprocessors as soon as the supporting software is commercially available.
Adding 64-bit features to consumer-grade processors would let x86 chips such as Intel's Xeon and Pentium overcome today's 4-GB memory limit. However, the strategy also could undermine the hope that Intel's current 64-bit chip, Itanium, will ever ship in large quantities.
Itanium was once expected to spread as widely as Pentium, but Itanium forecasts have been declining in recent years. In 2000, IDC projected Itanium server sales of US$28 billion by 2004. Two weeks ago, IDC lowered its 2007 forecast to $7.5 billion.
The pending upgrade from 32-bit processing by Intel comes as technology rival Advanced Micro Devices enters the second year of its campaign to sell its AMD64 Opteron line of chips, which support 64-bit software being developed by Microsoft.
Computing experts are excited by the news about the 64-bit chips, disclosed by Paul Otellini, president and COO of Intel, during a conference with analysts late Wednesday.
32-Bit vs. 64-Bit Computing
Intel will demonstrate the new 64-bit technology next month at the Intel Developer Conference, which is set to take place February 17th to 19th in San Francisco. Intel had code-named the technology Yamhill but now calls it CT.
"These chips will simply be faster, especially given the high expectations we now have," Jim Caruso, CEO of consultancy TelecomAlley and a 25-year veteran of the IT industry, told TechNewsWorld.
The difference between 32-bit and 64-bit computing could be like night and day — at least after software specifically designed for the additional power comes out. Any instructions that can be executed in a single pass on 64-bit systems, for example, require two passes on 32-bit systems.
"Data, especially [numerical calculations], requires 64 bits to represent the number more accurately," said Caruso. "On a 32-bit system, a floating-point number must be passed twice down the bus to be moved around the computer — from disk to cache to core memory to CPU and back out."
Caruso observed that on older 32-bit computers, floating-point chips have helped speed this function for numerical applications, such as spreadsheets, or engineering or scientific calculations.
But with Intel moving toward 64-bit architecture for non-Itanium processors, the industry once again will face a major upgrade that could offer a boost to computing, much like the invention of floating-point processing technology once did.
More Memory, More Power
Scuttlebutt throughout the computer business has long indicated that Intel scientists and engineers were working on a new 64-bit architecture to accommodate more powerful applications and greater demands on memory, but most rumors were low-key because the company was still in the midst of a heavy marketing campaign for its Itanium chips for PCs.
This month, Intel executives have once again been pushing the company's line of Itanium chips — which are based on a 64-bit architecture — saying the company still believes 64-bit Itanium chips are poised for a major success. Company executives are calling the third generation of the Itanium chips "Madison."
Itanium has been able to run x86 software only very slowly, but Intel says performance is improving with a software-emulation technology called IA-32 Execution Layer. In contrast, AMD's 64-bit strategy for the x86 architecture, now called AMD64, runs the vast quantity of existing software for Pentium and Xeon.
Opteron and Itanium Sales
Earlier this month, IDC issued a report indicating that any sales boost from the latest version of Itanium will be short-lived, and that the 2007 forecast for sales for the superchip were reduced from $8.7 billion to $7.5 billion.
"Insight64 believes this phenomenon alone will push an Intel 64-bit x86 into 2005," said Nathan Brookwood, an analyst at research firm Insight64.
But AMD's Opteron is catching on. In the third quarter — only the second since Opteron's April debut — about 10,746 Opteron servers were sold, more than twice the 4,957 Itanium systems sold, according to IDC.
However, Opteron and Itanium shipments are both far short of selling the 1.18 million servers shipped with Intel's Xeon or Pentium or AMD's Athlon.