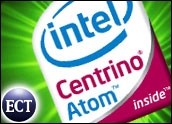 Intel on Wednesday unveiled the Centrino Atom family of low-power processors for mobile Internet devices (MIDs).
It also announced a new class of inexpensive, simple Internet-centric computers, called "netbooks," which will hit the market later this year, and new developments in other chip families.
The center of interest, however, was the Atom family, whose technology incorporates a new single chip, the Intel System Controller Hub, that enables PC-like capabilities with integrated graphics and a wireless radio.
Technical Details
The Atom processor is based on a new micro-architecture designed for small devices with low power consumption. It is compatible with the Intel Core 2 Duo instruction set, and supports multiple threads for better performance and increased system responsiveness.
Intel unveiled a total of five new Atom processors at the Intel Developers' Conference in Shanghai, China.
The story of the chips' names is a bit complicated: The Intel Centrino Atom processors were formerly code-named "Menlow" but they include the Intel Atom processor — formerly codenamed Silverthorne — and chips formerly codenamed "Diamondville."
The processors, Intel's smallest, are the world's fastest chips with less than 3 watts of power consumption.
Their thermal design power (TDP) specification maxes out at 2.5 watts, less than one-tenth the 35 watts TDP of the current mobile Core 2 Duo processors.
This reduction in power consumption came about because of several major processor design power management techniques such as Intel Deep Power Down Technology, CMOS mode, and Split I/O power supply, Intel said.
Parallel Processing
The new family supports hyper-threading technology, which lets the processor execute two instruction threads in parallel.
It has a smart cache, with a more efficient cache and bus design that enables more efficient data sharing; a power optimized front side bus rated at 533 MHz, with macro-ops fusion for faster execution of instructions at lower power.
It also has an enhanced data prefetcher, which loads data likely to be requested by the processor into the Level 2 cache.
The family supports Intel virtualization technology, a set of hardware enhancements that let users run dual operating systems and applications in independent partitions.
It also supports Intel digital media boost, which offers enhanced performance on floating-point-intensive applications such as CAD tools, three-dimensional and two-dimensional modeling, video editing, digital music, digital photography and gaming.
Intel will release three versions of its controller hub.
Applications and Communications Support
The Centrino Atom family will support the latest Web technologies such as Adobe Flash and JavaScript.
Manufacturers can integrate various wireless connectivity options such as WiFi, WiMax and cellular data capabilities into the chips.
While Intel has always said it will support Linux, it announced in Shanghai that it will also support Windows XP and Windows Vista.
How does that jibe with Microsoft's recent statement that it will no longer support Windows XP after June 30?
Microsoft will continue to offer Windows XP Starter Edition in emerging markets for ultra-low cost PCs until June 30, 2010, a Microsoft spokesperson told TechNewsWorld.
Intel has already lined up a deal with Skype, and the two will work to enable Skype support on the Mobile Internet Linux Platform through OEMs (original equipment manufacturers).
Pulling Out the Stops
At the Shanghai conference, Intel showed a list of about 20 manufacturers, 10 service providers and several software companies that have signed on to work with it in the MID space.
It recently also demonstrated four prototype MIDs at a news conference in Tokyo.
These included a Centrino Atom-based Fujitsu Ultra Mobile PC; an Atom-based Panasonic Toughbook tablet PC; a mobile navigation device from Clarion; and a keyless device from Toshiba.
Manufacturers "around the world" will ship Intel-based MIDs "beginning this summer," Intel said.
The rush to the mobile market could prove fruitful: "Intel wants to raise the game in smaller devices," Gartner Fellow and Vice President of Emerging Technologies Martin Reynolds told TechNewsWorld. "They want to enable features and functions that cannot be delivered with existing power-optimized processors such as AR (augmented reality) and MIPS (millions of instructions per second) while preserving battery life."
If Intel's plans come to fruition, it will strike gold: "If they succeed, they open up a new market for their fabs (fabrication plants) that could draw a billion units a year," Reynolds said.