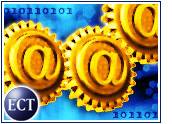 It's official: Web services technology has gone mainstream. The technology — which consists mainly of software designed to let business systems communicate with each other across the Internet without human intervention — is already making a huge impact on how companies share information and conduct business online.
In December of last year, 52 percent of North American IT executives responding to a Forrester study said they either had a Web services project in production or were rolling one out. Companies using Web services and service-oriented architecture are already saving time and money on simple, high-volume transactions. With continued cooperation of industry leaders, security standards for Web services will likely appear soon to make the service transactions and data-sharing more secure.
As Web services grow, we'll have to learn to let machines do more of our work for us. We'll also have to learn how and when to interfere.
How We Got Here
In 1887, language expert Ludwik Lejzer Zamenhof published a new artificial language. He called it Esperanto — "one who hopes" — and from then on, Zamenhof called himself Dr. Esperanto. The good doctor hoped the invented language, based on common European word roots and inflections, would reduce the hatred that he believed stemmed from misunderstandings among different cultures.
It is no wonder that today's new standards — XML, SOAP, UDDI, WSDL and the like — draw comparisons to Dr. Esperanto, his language and his high hopes.
Simple Object Access Protocol (SOAP) — one of the most widely used Web-services protocols — essentially breaks information into universally decipherable packets. SOAP enables conversations, even between machines with different languages and platforms (backgrounds and cultures), to occur without human interpreters.
Microsoft first proposed a SOAP standard in 1997, and by 2000 several industry leaders agreed on both it and the Universal Description, Discovery and Integration (UDDI) initiative.
"Web services as a market has been brewing for two or three years," Michael Liebow, vice president of Web services for IBM Global Services, told TechNewsWorld. Even as security standards are being hammered out, he said, Web services are here to say. "The art of what is possible has changed," he said.
What Is Possible
Basically, said Whit Andrews, a research director at Gartner, Web services offer "increased operability in machine interfaces." And they are already paying off. Andrews cited UK retailer Marks & Spencer's use of Microsoft's MapPoint.NET.
When a cash register at one of Marks & Spencer's 500-plus stores records two or more credit card sales in a single day on the same account, the system checks the locations, calculates travel time between them, compares that with the actual time between sales and sends the information back to the store's point-of-sale system. This makes it fast and easy to stop multiple shoppers from trying to max out a stolen credit card account.
Ted Schadler, a principal analyst with Forrester, told TechNewsWorld that Web services also benefit members of Harley-Davidson's Harley Owners Group. HOG members order tickets and sometimes receive discounts through Ticketmaster for certain Harley events. How does the Ticketmaster database know you're in the HOG database? When you enter your name and HOG password, Ticketmaster queries the HOG database.
That is a simple example, but one that illustrates how invisible and how important Web services can be. To accomplish the same thing sans Web services, the two companies would have to develop or at least customize compatible middleware, soaking up buckets of time and programming dollars in the process. SOAP makes it possible for Harley and Ticketmaster to communicate that isolated packet of information. "And the whole thing happens inexpensively," Schadler told TechNewsWorld.
Other Standards Needed
Liebow pointed out that while Web services standards are a major advancement in IT management, individual industries might need to work on their own standards to make SOAP, XML and UDDI pay off.
"The travel industry might have to decide, for example, to create a standard for how you create a ticket or a boarding pass," he said. Like other technology implementations before them, Web services-enabled projects will spring from the business need to increase efficiency and might require considerable process rethinking.
"It's up to IT to make sure this happens right," Liebow added. "It's up to IT to be ahead of the curve on the technology and to be ready for the business needs."
What and When
Andrews, Liebow and Schadler agree that Web services work well today and that they will continue to improve. "Companies who are doing it now … are really getting a competitive advantage," Liebow told TechNewsWorld.
By 2006, Andrews said, Web services will be pervasive. If that is true, how will business have changed as a result?
"It will certainly drive specialization," Schadler told TechNewsWorld. Because Web services make it easier to isolate even the smallest components of business processes, they also will make it easy to outsource those processes to specialists. "Ultimately, it will drive efficiency and accelerate development cycles," he said.
Andrews echoed that opinion. "When you can outsource even tiny, granular capabilities, it has a tremendous impact and an enormous ripple effect," he said. "Fundamentally, [Web services make] everything a little faster, a little more flexible and a little more risky."
The Risk Within
Andrews recalled "The Sorcerer's Apprentice" from Disney's Fantasia. When the mouse-magician enchanted his mop and other tools to do his chores, mayhem ensued.
"Any time you increase your ability for machines to do your work, you increase the machines' impact," he said. That's why it's important to understand that Web services are almost "too easy." The system must have enough checks to ensure integrity and to "make sure the services are doing what they are intended to do."
Because Web services allow different systems to talk to each other, making decisions and transactions based solely on machine communication, humans must be smarter than the machines. In short, we must know when to interfere.
That requirement is not new, of course. "Managing your work is the constant problem of human endeavor," said Andrews.