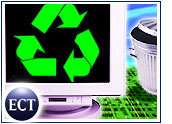 Technology's global impact is hardly limited to Internet communication and speedier business cycles. One uncelebrated truth about the information age is that hundreds of thousands of electronic items are disposed of daily — and not always properly.
"No one thinks about throwing away a five-year-old car," Robert Houghton, president and founder of Redemtech, told TechNewsWorld. Unfortunately, in spite of growing awareness regarding electronics recycling, a disturbing number of five-year-old computers are dumped daily. Waste Electrical and Electronics Equipment (WEEE) constitutes the fastest-growing waste stream. According to the EPA, more than 4.6 million tons of e-waste landed in U.S. landfills in 2000.
With computer waste volume projected to quadruple in the next few years, the situation poses both tremendous environmental challenges and terrific business opportunities for companies like Redemtech. Founded in 1998, the Ohio-based firm is one of the largest computer and technology recovery companies in the United States.
Emphasizing Reuse
To make a point about computer recycling, Houghton refers to the auto industry, which has grappled with reuse and hazardous waste disposal for decades. While selling used cars islucrative, Houghton said, computer manufacturers focus primarily on selling new boxes and merely disposing of the old.
Houghton said Redemtech customers are using computers for longer periods of time before shopping for new models. Although the break-even point between technology residuals and disposition costs was once considered to be 30 to 36 months, he noted, "A four-year life cycle is closer to the norm for the most progressive corporations today." Companies also are budgeting up-front for disposal costs, which adds about US$250 per machine. And, more often than not, "disposal" means reuse.
But whether selling used PCs to employees at low prices or donating the equipment, corporate security remains a significant concern. Even outright disposal is fraught with liability.
That liability — needing to know precisely where the metal debris and discarded circuit boards go — caused Kaiser Permanente to encourage Redemtech to consider doing demanufacturing itself, rather than subcontracting the work. Houghton said this step was a logical one; the company now has its own demanufacturing facility.
Peter Muscanelli, founder and president of the International Association of Electronic Recyclers (IAER), told TechNewsWorld that IAER members "constantly look at reuse as the best and most logical avenue," but he doesn't expect to see reuse increase. "Manufactures have brought down and continue to bring down product costs without compromising quality.The consumer looks at an $1,800 computer [now] reselling for $250 and compares that with a new PC selling for $499," he said.
Global Mess
In much of Europe, liability for electronics disposal rests with manufacturers, while in the United States, owners assume responsibility for end-of-life disposal. That requires corporations to qualify waste handlers.
In addition to environmental concerns, increasing privacy regulations, such as the HIPAA (Health Insurance Portability and Accountability Act, designed to protect health-care information) and the Gramm-Leach-Bliley Act (designed to protect financial information), have increased the financial risk and liability related to technology disposal. And U.S. corporate owners just might have to accept that as the new American way.
Muscanelli said he believes mandating manufacturers to accept liability simply won't work in the United States. "If you get 50 states to enact 50 regulatory bills, you're going to have 50 messes." Instead, he is optimistic that joint cooperation among manufacturers, OEMs and recyclers not only may prevent "tedious" overregulation, but also could improve handling of hazardous materials.
Muscanelli said an annual joint summit between several computer industry groups has produced some very good synergies. "Take fasteners — there was a time when there were a million fasteners in computers," he said. "Now you look at them and there are a lot more snap fits." This small change has had tremendous impact in recycling and demanufacturing, he said, and he's hopeful other improvements are coming.
He added that recyclers, positioned at the end of the product life cycle, must "constantly adapt to the changing marketplace." Successful recyclers will have to offer their customers reuse, recycling and demanufacturing options for changing technology — for example, from old CRTs to new plasma and other display types.Certainly, few big-screen TVs get trashed today, but in four years they might be the next recycling nightmare.
Recycling by the Numbers
Researchers at the Georgia Institute of Technology have devised mathematical models to predict and improve success rates for electronics reuse and reverse-production systems. In a sense, the model itself is recycled: It is based on one they developed for the carpet industry in 1998.
Jane Ammons, a professor of industrial and systems engineering, and Matthew Realff, an associate professor of chemical and biomolecular engineering, said the model allows for "robust optimization," factoring in up to 300,000 variables.
"We solved the equation for multiple different scenarios," said Realff, "using different levels of collection and reuse for TVs, monitors, PCs, laptops and cell phones — as well as for very high and very low percentages of reuse."
In both the computer and the carpet models, Ammons and Realff found volume is extremely important. Another commonality between the industries is that the efficiency of the reverse-engineering process, and therefore the viability of recycling efforts, depends largely on the level of cooperation among manufacturers.
Company Cooperation
"From the collection mechanism to the transportation links, we've learned a lot about how hard it is to get it done," Ammons said. But when industry resources like collection infrastructure are pooled, "we were surprised at how financially viable these things can be. They really can support themselves."
The Georgia Tech model, funded primarily by two grants from the National Science Foundation (NSF), is already at work in its home state. Last year, Georgia started the Computer Equipment Disposal and Recycling Council (CEDRIC). Ammons sits on the board. Ammons and Realff also presented a paper to the 2002 International Conference on Supply Chain Management in Beijing last year.
Their model could spark national or multinational recycling and reverse-engineering programs. Or, politics and industry infighting could halt progress. "A year from now, we'll be able to tell," Ammons said.
Ammons and Realff said the carpet industry has proven that even in that highly competitive market, progress is possible. Realff said the mathematical model helps because it makes everything more objective. "It's just easier when you can't argue with the model."