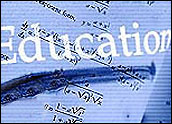 Mark Menarik, CEO of Chicago-based TanCher, believes that a new PDA designed for students can foster a revolution in teaching with technology. His innovation could herald a breakthrough in mobile computing platforms if his plan succeeds.
According to Menarik, the shapes of the BlackBerry and Treo are not user friendly. So TanCher is introducing a new design for a student appliance for school systems around the country.
Students will use this new device for such things as to respond to questions in the classroom instead of raising their hands. The PDA will also allow students to take tests and to receive homework and notes from the classroom lesson they received half an hour ago.
'Purpose-Built' Approach
TanCher is evangelizing the concept of a "purpose-built" approach to creating a new category of hand-held wireless device. Menarik plans to custom-build this new device and license it to other developers to bring it to market and create educational applications for it.
"We're looking for funding now. In six months we will have a working prototype. In six months more we hope to be ready for licensing a brand name partner," Menarik told TechNewsWorld.
The new PDA will be more of a wireless communicating device than a computer. It will have a built-in peer-to-peer network that will not require the Internet for users to stay connected. However, it will also have full Internet browsing capabilities.
Menarik said the device will focus on maximizing the wireless capabilities for the educational market.
The PDA's viewing screen will be trimmer and smaller than a laptop screen. The viewing quality will be more like that of a desktop computer than today's typical hand-held devices. It will contain numerous personal information management applications optimized for medium resolution, high caliber viewing.
New Platform Hard Wired
The new PDA student device will be called a TIM. That stands for TanCher Internet and Mobile Platform.
Menarik said TIM will not be Palm based, Windows based or Linux based. Instead, it will operate with the power of a full graphical desktop operating system. The platform will run on a new TanCher OS that the company is developing.
As Menarik describes his innovative PDA, it will be a PDA turned sideways with a larger screen and a QWERTY keyboard.
"It's a touch up from a cell phone or smart phone. It's a step down from a tablet PC. It's a new category of device," Menarik said.
Tapping into Old Concept
Although his pie-in-the-sky concept might seem like a wish list item for educators, Menarik is certain that his concept will be very down to earth for teachers. He plans to draw his final design from earlier success with hand-held devices for teen-agers.
"This new mobile computing platform will be an offshoot of the early Cybiko days," Menarik told TechNewsWorld.
His reference is to a US$40 million Chicago-run start-up that developed a wireless PDA/gaming platform that sold approximately 500,000 units. The devices sold for $99 and came to market with more than 400 downloadable mobile games and applications. The leading engineers and management team of the company are now wholly intact as TanCher.
TanCher, founded in 2003 and self-funded, designs and develops hand-held wireless hardware and software products. The company has an established record in developing embedded software, small-screen applications, data network integrations and mass production support. TanCher's core team came from Cybiko.
High-Tech Education
Menarik is confident that his new PDA platform will do for the classroom what Instant Messaging and cell phones have done to turn on children to communicating conveniently.
In fact, he envisions an explosion of new teaching strategies in 21st Century classrooms extended into students' homes with the new wireless gadget.
A White Paper written by a consultant to TanCher titled, "Immersive Learning, 21st Century Skills, and Crossing the Digital Divide," offers considerable support for Menarik's educational goals.
Take, for instance, the experience of schools in Illinois, Maine, Virginia, North Carolina and Michigan where laptops have been used. Students improved test scores, increased their rate of graduation and improved their schoolwork.
According to the White Paper analysis, the idea supporting convergence technology is not new. Early efforts, however, to put student needs into the new technology systems have not been attempted.
"There currently is no released product from a competitor for a student device that will meet the needs of the student, education, parents and focus on services that have a shot at eRate approval," according to the report.
Market Ripe for Proceeding
TanChere's analysis shows the potential available market base will be between $8 billion and $20 billion. The annual market is between $13 billion and $20 billion.
TanCher's partners will market to middle school and high school students. There are more than 28 million students in those grade levels in the US. Additionally, each year 4 million new potential customers are added, according to the White Paper.
As far as competition is concerned, there isn't any. The current competition is mostly related to traditional computer companies trying to sell products designed for the business environment to schools.
Telecommunication companies are far from the new action, the report noted. Such companies are still focused mostly on voice information. Data is starting to become a focus among business adopters.
As the analysts see the field, advertising for student cell phones pushes free minutes or shared minutes. Text messaging, Internet access and digital cameras are gaining strong prominence in merged devices.
What is missing, the report noted, is that not one of the cellular providers links to the schools' computers so that students can collaborate, do homework and connect with faculty.
Funding Sources Critical
The analysis concludes that technological issues will not be a barrier to succeeding with a student communication device. The company can easily create portable units to meet the requirements of both the students and the schools.
The real barriers to the success of the new mobile computing platform are consistent funding, support for legacy textbook solutions, adequate Internet access and mobility. Student and school acceptance should be readily offered.
The report suggests that federal funding and effective redirection of textbook funds will accelerate this transformation to technology in the classroom.
Given the advanced rate of children's acceptance of technology, students should easily take to a popular hand-held device to increase their learning. After all, teenagers already use high-tech devices such as cell phones, pagers, digital cameras, iPods, CD players, DVD players, Gameboys and even laptop computers.
Convergence and Schools Add Up
TanCher's White Paper concludes that the only issue is who will be first to this new market with the right category of device and service/solution partnership.
Students are device users. They use information and communications to exist. Teen-agers have access to all of this technology anywhere and at anytime. However, they can't use them in class because of current teaching strategies and fears that these devices will distract them from the true purpose of sitting in a classroom.
The new mobile device that Manarik proposes would make it possible for students to do their schoolwork and meet many of their needs for communication, personal information and entertainment.