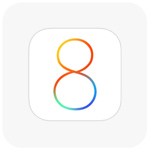 Apple made the latest version of its iOS mobile operating system available for download on Wednesday, and while it looks familiar, it contains lots of new delights not only for fans, but also for its legions of developers.
"There isn't a significant change to the user interface, so if you already have iOS 7, you're going to immediately know how to use this, but there's a lot of new features," Tim Bajarin, president of Creative Strategies, told TechNewsWorld.
One of those new features is Handoff. It allows you to work on a document, email or project across Apple devices, including those running OS X Yosemite. For example, you can start a letter on your iPhone, pick up where you left off on your iPad, and finish up on your MacBook Air.
Moreover, Handoff will prompt you that you have an unfinished item on another device and let you bring it up and finish it.
Initially, Handoff will work only with Apple apps like Mail, Safari, Pages, Numbers, Keynote, Maps, Messages, Reminders, Calendar and Contacts. However, Apple has opened the feature to developers, so they'll be able to build it into their apps.
"The continuity feature will resonate with users — the fact you can start something on your phone and finish it on your tablet," Gartner Mobility Research Vice President Van L. Baker told TechNewsWorld.
Keyboard Support
Another new feature that iPhone users will welcome with open arms is the ability to answer a call to their phones from a Mac running Yosemite.
The new mobile OS will work with most Apple products that can run iOS 7, although some features need Bluetooth 4.0 support. iOS 8 adds a time-lapse video feature to a device's camera. It also adds a predictive keyboard, plus hooks for other keyboard apps, such as SwiftKey and Swype, so they can work within other programs on the devices.
"This is an area where Apple has been surpassed by Android and even Windows, and is long overdue," said former Forrester analyst Charles Golvin, who recently founded Abelian Research.
While it may seem to some observers a simple task to add soft keyboard support across apps, it required a significant redesign under the hood of iOS to safely enable the feature.
"iOS keyboards were designed so keyboard strokes couldn't be copied," Creative Strategies' Bajarin explained. "It was a security feature. So Apple had to find a way maintain that level of security and support third-party keyboards."
Health Apps
With iOS 8, Apple has added iCloud Drive, which makes Apple's cloud service behave like competitors such as Dropbox and OneDrive.
Family Sharing allows content from the iTunes Store purchased with the same credit card to be shared with up to six family members.
The HealthKit application programming interface will enable the development of health monitoring apps for iOS 8.
"This is opening up a new world of health applications even before the Apple Watch emerges to further expand that world," Abelian's Golvin told TechNewsWorld.
HealthKit is just one of many APIs added to the latest version of iOS.
"There's 4,000 new APIs," Gartner's Baker observed. "I can't pretend to tell you what they all do. There's an abundance of riches in APIs in this release of the OS — way more than has ever been released in the past."
That abundance of APIs, coupled with the addition of extensions that allow apps to talk to each other for the first time, promises to set the stage for a new generation of powerful iOS apps.
OS Convergence
Unlike Android, iOS used to prevent apps from talking to other apps.
"That made iOS technically more secure than Android," independent mobile device analyst Michael Morgan told TechNewsWorld.
"In iOS 8, Apple has figured out a solution to make the OS more like Android, and essentially allow an app's functionality to be extended securely to other apps," he noted.
"Now, because apps can talk to things beyond their own little world, you can have third-party keyboards, a better iCloud experience, interactive widgets — all driven by the extensions function in iOS 8," added Morgan.
While iOS is starting to operate more like Android, Android has started adopting some tricks from iOS.
"The latest version of Android has done more work on making apps sandboxed and segmented, making it more like iOS," Morgan said.
"This is the commoditization of the mobile OS," he noted, "and with the hardware becoming commoditized — although Apple would tell you different — it's going to come down to who has the better ecosystem and who uses it better."
As with any OS upgrade, there will be users who can't wait to take the new software for a ride and others resistant to change.
"Upgrading straight away opens up the risk of bugs that still need to be fixed," Carolina Milanesi, chief of research at Kantar Worldpanel ComTech, told TechNewsWorld.
"But as always," she added, "the pros outweigh the cons."