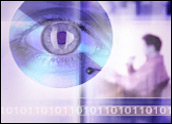 It's a good bet that when "The Daily Show's" Jon Stewart spends six minutes making uber-ironic fun of a particular trend or topic, it's pretty much arrived as a legitimate Mainstream Media Phenomenon. Such was the case recently with Stewart's hilarious deconstruction of Chatroulette, the Web site that facilitates random video chat conversations, at least half of which apparently involve men engaging in some kind of sexual activity — judging, that is, from all the print and broadcast coverage.
The brilliance in Stewart's skit was its targeting of that media coverage. A montage of sensationalistic broadcast and cable news stories about Chatroulette — many involving pixellated private parts and young women rapidly averting their eyes from their computer monitors — segued into Stewart's personal tour of the Web site, with special assistance from the likes of Diane Sawyer, Katie Couric and Brian Williams.
Eye Bleach at the Ready
The moral? If you're not surprised by NC-17 content on the site, then you must be face-to-face with some reporter "researching" a Chatroulette story. The Web site's visitors can easily click on a "next" button to move on to another conversation, but that may be after they've had their eyeballs seared by a gratuitous sexual image courtesy of some deviant halfway around the world. There is a warning on the site that it "does not tolerate broadcasting obscene, offending, pornographic material," and users can block such content while reporting the offenders, the caveat seems to be more of a guideline than a rule.
That may be why the Texas attorney general's office last week put out a consumer alert warning about Chatroulette and the possibility that children could be exposed to sexual offenders online.
The 17-year-old Russian who designed the Web site, Andrey Ternovski, reportedly is contemplating offers from Google, Skype and others, according to Der Spiegel magazine, so Chatroulette may indeed have to clean up its act if Ternovski wants to cash in on the sudden fame. Yet the coverage about his Web site is overshadowing the arrival of real webcam ubiquity, more interest in business-related uses of video chat technologies, and consumer acceptance in a wider range of venues, such as journalism.
Video chat is certainly not breaking news in the boadrooms of many global companies; they've been discussing budgets and projects via video conferencing for years. In the recent Oscar-nominated film "Up In The Air," a young corporate-ladder-climber clicks on the idea of using webcams to handle layoffs, with less-than-stellar results. But the rise of social media — of giving consumers more power to weigh in on news stories or company products — coupled with notebook and netbook computers that feature pre-installed webcams with easy-to-use software have combined to put a new focus on the practice.
'Haul Videos' and Skype-Powered Interviews
Before Chatroulette sucked all the oxygen out of the mainstream media tent, another user-generated video story was bubbling up through the technosphere to get the attention of writers at The New York Times and NPR, among others. "Haul videos" popping up on YouTube featured young girls showing off before their webcams what they had bought during recent trips to the neighborhood shopping mall. NPR called it "PG girl porn," but David Erickson of the E-Strategy Internet Marketing Blog has a more marketing-friendly title: "the democratization of the Home Shopping Network." Their advent has marketers seeing new possibilities in harnessing that user-generated empowerment to help publicize businesses and brands. "What more could a retailer ask for than enthusiastic, peer-to-peer endorsements of their shopping experiences?" Erickson wrote. "Retailers should be cultivating if not deliberately encouraging the creation of these videos."
However, that cultivation should not creep over into sowing the seeds of "astroturf," or fake grassroots action. Actually paying a young teen to make the videos or offering free products would be a no-no akin to mistaking Taylor Lautner for Robert Pattinson. The real power here lies with the consumer, who can turn against a brand just as quickly as he or she has embraced it — and do so in a rapid, viral manner.
It's not just the consumer experience that's being democratized: viewers of broadcast and cable networks are seeing more Skype-powered interviews and news reports show up on their screens. The recent, massive Chilean earthquake knocked out power to several parts of that country, but those who were able to access networks on fully-charged laptop batteries or smartphones were able to contact loved ones in the U.S. — and give a quick debrief to network anchors on the side.
All this is the result of nearly 10 years worth of technological advancement. "The webcam technology itself has become increasingly sophisticated," said Pund-IT principal analyst Charles King, "to the point that you can capture, depending on the type of device, a very good quality image that can be used for interviews and so on. The other thing is that for the last eight years we've made huge strides in deployment of high-bandwidth Internet connections." That allows for a much better video signal light-years improved on the herky-jerky webcam images of the early 21st century.
Don't expect the webcam screens to go dark anytime soon. A 2009 Parks Associates survey asked webcam buyers if they were using their cameras for video chat. More than 70 percent answered yes. "I think that the use of webcams is really going to transform personal communications to the point where I think that a generation or so from now, video communications will be the rule rather than the exception," Parks Associates analyst Kurt Scherf told TechNewsWorld.
Focusing Webcams on Focus Groups
Rachel Geltman's eyes were opened to new business possibilities for webcams and video chats during a vacation with her teenage daughter. "We were in Denver and she was chatting with friends in New York, just yapping away like little girls do," Geltman said. "They were all talking among themselves in the comfort of their own bedrooms, and that's when I got it — this would be a great medium for research."
Thus the Video Chat Network was born — a way to use webcams for focus group research that can save companies money by doing away with renting facilities in malls and shopping centers, and having to travel to cities that represent geographic and demographic consumer constituencies. "Instead of people going to a facility and sitting around a conference room table, we're just going into their lives with video chat," Geltman told TechNewsWorld. "They're in their homes, behind their computers. We're going into their world where they're more comfortable and honest. A lot of the dynamics you see in focus groups — an opinion leader who takes over the group — that goes away. People are all on equal turf."
Since starting VCN two years ago, Geltman has grown her company to include about 15 clients who give her repeat business. She also hands out Flipcams for more on-the-spot research, and has plans for other ways to help companies and brands use video chat to learn more about consumers. And yes, Chatroulette represents a dark side of the technology that needs to be addressed with security, passwords, firewalls or other methods sooner rather than later.
"Unfortunately, does have some baggage, some less wholesome applications," she said. "But the potential is endless for bringing people together and having a forum to discuss topics, to develop content that can be really helpful to all kinds of industries."
King points out the recent story of a school district that handed out webcam-enabled computers to students — only to be caught using the cameras to allegedly spy on the kids. "Just because a thing has become ubiquitous doesn't mean you can use it any way you feel like using it," King told TechNewsWorld. "People need to be careful, especially if companies aim to leverage these technologies. It makes a great deal of sense to come up with best practices and enforce the way people use those technologies in the office."